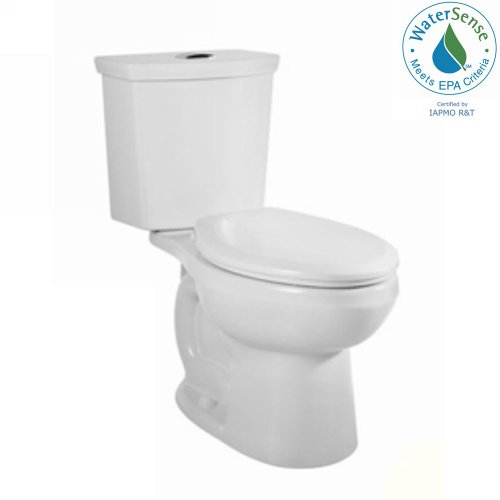 Are you looking for an incredibly affordable, compact toilet for your home?
Do you want a toilet that won't compromise on its ability to flush, even though it is a budget-friendly appliance?
With the American Standard H2Option, you'll be getting a toilet that you can purchase at an ultra-competitive price that still offers a lot of flushing action with every use. It's powered by a siphonic dual flush that will work hard to make sure that your toilet stays as clean as possible. For the homeowner that won't compromise on cost or efficiency, this is a great toilet to consider!
What Are the Features of the American Standard H2Option?
The primary feature that you'll find useful with this particular toilet is how the construction of the unit has made it a highly efficient item. It offers low water consumption to the extent that it is WaterSense certified. It's a 12-inch rough-in, so it's nice and compact, and instead of having a lever that you'll need to press, there's a push button actuator on the top of the tank, similar to some of today's best commercial toilets.
There are these additional features to consider with the H2Option as well.
This toilet can handle up to 1,000 grams of waste in a single flush, yet it allows you to use 25% less water per flush to achieve this.
It has a pressurized rim that will spray water into the toilet automatically so that the water itself will scour the bowl to wash it with every flush.
The design of the H2Option puts the water directly into the bowl with a siphonic jet so that the water levels can be maintained throughout the entire flush, providing a healthier, cleaner result.
Coming in three distinctive finishes and created to dispense of a bulky mass, the American Standard H2Option is perfect for households that live in areas of water restriction. You'll still get a healthy flush, will meet water local water standards, and ultimately be happy because you won't have to stand there to flush two or three times to achieve the needed result.
Are There Any Advantages That Come with the H2Option?
The primary advantage that you'll receive with this particular toilet is its ease of installation. American Standard has equipped it with Speed Connect, which means you'll be able to install it up to 30% faster than your typical toilet.
Much of the toilet comes pre-assembled, and it contains factory installed grommets and bolts so that you won't have to worry about managing a ton of loose parts.
What could be improved with the design of this toilet?
American Standard markets it as an all-in-one toilet, yet you're required to purchase your preferred toilet seat for it. If you happen to get stains above the water line, you may also find that this particular unit struggles to remove them because of the lower water usage. That means more cleaning work is headed your way.
Overall, however, it is challenging to find a better, more powerful toilet that is this water efficient. If you have low water requirements to meet or you want to reduce your water consumption rates, then consider this model today. It has the goods to support your home for years to come.
Click here to compare prices on Amazon and get the best price on the American Standard H2Option.