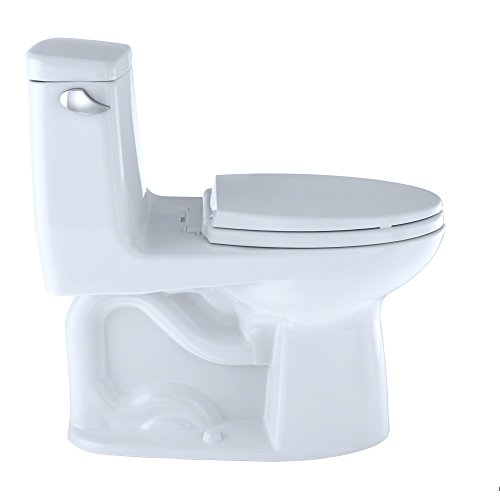 Are you looking for all of the qualities that you love about TOTO, but want a toilet that meets ADA standards?
Do you want to avoid the high prices that tend to come with toilets that meet these specifications?
With the TOTO Ultramax, you may end up finding that this is the perfect toilet for you! It offers a height of 17.25 inches, well above ADA standards, plus it provides an excellent width of 16.5 inches, so there is a lot of water space. Despite the extra water coverage, you won't use a lot of excess water with the 1.6 gallons per flush.
What Kind of Features Does the Ultramax ADA Toilet Have?
Being ADA compliant isn't the only nice feature of this specific toilet. It comes in four different finishes so you can make sure your fixture matches your bathroom's interior design easily.
The best feature, however, is the G-Max flushing system that TOTO includes with this toilet. You'll receive a commercial grade flushing experience even with the reduced water flow, and that means less maintenance – and ultimately less mess.
There are also these additional features to consider when thinking about the purchase of this toilet:
It offers a more comprehensive, 3-inch flush valve that will help the fixture move water through the flushing cycle much more quickly than standard toilets.
It also provides a broader trap at 2 1/8 inches that has been designed by a computer to make it a more reliable flushing experience, even for large masses.
The soft closing seat rounds out the quiet experience for this toilet, so you don't have to worry about slamming the toilet down when you're in the midst of a transfer.
If you have a disability that makes it difficult to get onto your current toilet, this might be the perfect upgrade for your home. It's more affordable than other ADA models, gives you a lot of features at this price point, and still offers you a consistently good water conservation system so you can help to protect the environment in some little way.
Is There an Advantage To Owning This Particular Toilet?
It's the flushing system that turns this toilet into a great one from just a good one that can get the job done. It offers a large siphon system that will help to create a lot of speed within the bowl of the toilet. This feature combines with the glazing to promote a better non-stick performance.
You receive a toilet that works hard to be stain free with every single flush. If you're tired of having to clean your toilet regularly, then you'll love the amount of time this toilet will save you!
The one disadvantage of this particular model is that the toilet bowl itself isn't completely round. It's more of a triangular shape, and that makes it difficult for a plunger to work adequately to remove a clog. When the toilet does clog, the water tends to seep through the trap, and this dries it out, making it even more difficult to removed.
Overall, however, many people are going to find that there are a lot of good things going on with this toilet. It's highly affordable, built to ADA specifications, and gives you a comfortable sitting experience.
Click here to compare prices on Amazon and get the best price on the TOTO Ultramax ADA One Piece Toilet.