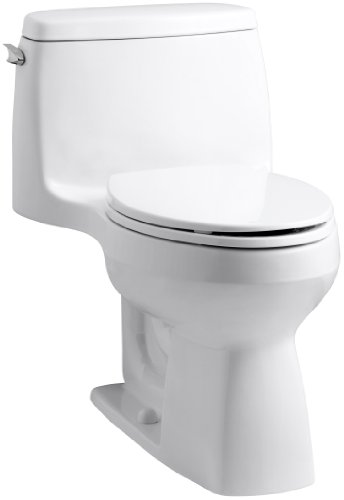 Do you want a comfortable, all-in-one toilet that won't destroy your savings account when you need a new bathroom appliance?
Would you like a toilet that comes in a wide variety of finishes so you can complement your bathroom's style quickly and easily?
Priced competitive against simile makes and models, this toilet offers a level of comfort that is virtually unmatched thanks to its unique chair-like design, the 12-inch rough-in for this toilet lets it work in most situations.
It also comes in 8 distinct finishes so that you can choose the perfect color for your toilet right now!
What Are the Features of the Kohler Santa Rosa?
The primary feature that we loved with this particular toilet was the design of the canister flush valve. It provides one of the smoothest flushing experiences you'll be able to find today, and this gives you a consistent result time and time again. It only uses 1.28 gallons with every flush as well, letting you conserve water without having to worry about double or triple activations because there's a mass that you can get through the trap.
You'll also find these features on the Kohler Santa Rosa to be quite useful too.
• It offers a Class Five flushing system that will allow you to get rid of bulk waste while providing one of the best cleanliness experiences you can find at this price point.
• The elongated bowl design gives users an extra 1.5 inches of space for a little extra added comfort and depth.
• The design of the seal within the tank provides 90% less exposure of water to the sealant materials, which gives you a more reliable, long-term leak-free experience.
The marketing materials for this particular toilet state that you'll receive the flushing power of 3.5 gallons with every activation because of this model's unique design. Although that might be pushing the realm of reality, it is true that you'll get a pretty strong flush with a small amount of water. This toilet is also fully ADA compliant and is WaterSense certified, giving you 360 degrees of mess sweeping power that will help keep your fixture fresher and cleaner.
Advantages That Come with the Kohler Santa Rosa
The primary advantage is the AquaPiston technology included with this particular toilet. If you've used other toilets at this price point in the past, then you've likely seen how easy it is to warp some of the components in the unit if you end up activating the flushing mechanism just a little too hard.
That worry is a thing of the past with the Santa Rosa, and the precision engineering will help you flush virtually any waste through the trap with ease.
The height of the seat might be a bit bothersome to some folks who are more petite in stature. It isn't uncommon for someone's feet to not be in contact with the ground while sitting on this toilet in such an instance and that can be quite bothersome.
On the other hand, however, you'll also be getting a durable and very efficient toilet in the Kohler Santa Rosa that will help you save money and save water with every flush. If that's a need that you have, then this is a toilet you'll want to consider. It receives one of our strongest recommendations!
Click here to compare prices on Amazon and get the best price on the Kohler Santa Rosa.