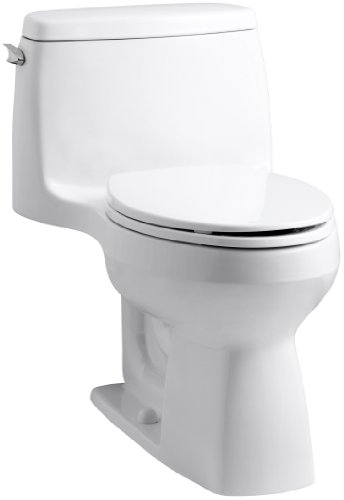 Do you want a toilet that will give you a commercial grade design, yet give you a lot of options still for your private bathroom?
Are you looking for a toilet that will help you save water, yet still get the job done?
The Kohler Santa Rosa offers modern technology that meets or exceeds current government standards on water conservation but does it with a design that is incredibly easy to maintain and clean. It's a one-piece design that offers a lot of functionality, and you can find that it is available today for an exceptionally competitive price.
It is one of those toilet designs that speaks of timeless tradition. You will enjoy the familiarity from the first moment of use as it adds an elegance to any bathroom design. Consider this model an investment in your future.
What Are the Features of This Kohler Toilet?
Coming in five distinct finishes, the primary feature that we loved with this version of the Kohler Santa Rosa is the Class Five flushing technology included with its design.
It's a mass breaker-upper that will help dispose of some of the toughest amounts of waste that are left in a toilet with just one flush.
Although you're not going to be able to send a bucket of golf balls down it, you can flush pretty much anything you can leave as a deposit!
There are these additional features to consider with the Santa Rosa as well.
• It comes with Comfort Height technology that helps to replicate the standard height of a chair so that sitting on the toilet is a natural, familiar mechanism.
• The two-inch flushing canister valve offers a consistent, smooth experience that helps to precisely regulate the flow of water so that each flush cleans the bowl effectively.
• This toilet works on all standard installation points, incorporating a 12-inch rough-in.
In some ways, a lot of the things you'll see in this toilet appear to be a bit average when you take a first look at it. First impressions can sometimes be deceiving, however, and they are with the Santa Rosa. It offers a robust and consistent performance, which is something you always need from a toilet!
Is There an Advantage To Owning the Kohler Santa Rosa?
The primary advantage that you'll receive is surprisingly in the design of the trip lever. It takes minimal effort to activate the flushing mechanism, and that means this is the perfect toilet for the little ones who are just starting to train.
One finger of adult force will be more than enough to activate the flush, Because the seal is 90% less exposed in this model than in other designs, you've got some extra long-term durability to enjoy as well.
Overall, there is nothing negative to say about this toilet. It has a fair, competitive price point, and it does an excellent job at what the manufacturer designed it to accomplish. You will be extremely satisfied to have this model in your bathroom.
Click here to compare prices on Amazon and get the best price on the Kohler Santa Rosa Comfort Height Compact.