Everything is becoming smart these days. We have smart homes, smart cars, and other forms of assistance and automation which work to make our lives easier. Doesn't it make sense to incorporate these technologies into the bathroom as well?
Japan has long been at the forefront of the modern toilet movement. Their high-tech models can seem confusing at first, but the various commands, features, and options available in this industry today can turn your bathroom into a hub of comfort and cleanliness. Some even offer Wi-Fi connections!
Although these new technologies come with an added cost, the numerous benefits that they provide can help you to create the perfect bathroom.
One Chart with the Best Modern Toilets
If you're looking for a fantastic toilet that will set your bathroom apart from all of the rest in your neighborhood, then these are the models from which you'll want to choose.
Best Modern Toilet
Pros:
Dual Flush
Skirted Trapway
Watersense Cert
Cons:
The WoodBridge T-0001 provides the perfect compromise between modern design and affordability. You'll receive a sleek, stylish one-piece fixture that installs quickly while offering several different features that can improve utility usage in your home.
It begins with the dual-flush feature that WoodBridge places at the top of the tank. Users receive a push-button design that allows them to flush an entire tank of water or just a half-tank for liquid waste. This design makes it easier to reduce water consumption without compromising on the cleanliness of the bowl afterward.
The secret to the WoodBridge T-0001 and its superb flush is the siphon-flushing design it offers. You receive glazing throughout the structure of the product, reducing the opportunities for waste particles or toilet paper to get stuck in the trap to dry out. That means there are fewer clogs to worry about for the average homeowner and benefiting from the WaterSense certification.
You'll receive everything needed to install this model in the box. The seat comes preinstalled, and you can choose to upgrade later to a bidet seat if you want. You'll also receive the floor bolts, wax ring, and comprehensive installation instructions that make this an easy process to complete.
We really appreciated how quiet this unit was during its performance, creating an effective flush without splashing or causing the pictures to rattle on the walls. The design provides a no-leak experience when installed correctly, and then you can finish off the experience with the soft-close seat that prevents slamming.
The WoodBridge T-0001 is also backed by a 5-year limited warranty against the porcelain components
staining or fading. The flushing mechanism and the soft-close seat have a 1-year warranty.
One of the most common complaints involves the installation because of the skirting that's on this model. We found the easiest solution was to either use an erasable marker or a wax indicator to place a mark on the skirt where the holes should line up to your bolts. Extend the markings on the floor beyond where the fixture will sit so that you can match them up appropriately. Assuming that the lines are straight, you'll be able to place the unit in 5 minutes or less. Then tighten as instructed.
If you are looking for a model that won't break your budget, but it will still offer modern features that you can use every day, then the WoodBridge T-0001 is the perfect model to choose. It may not offer as many high-tech solutions as some of the other products in this category, but it will definitely get the job done for you. Click here to compare prices on Amazon and find the best deal on the WoodBridge T-0001.
Best Japanese Toilet
Pros:
Warm Water
Premist
Air Dryer
Cons:
TOTO has been trying for more than a decade to introduce the North American market to the wonders of the Japanese-style toilet. Although they have not been very successful in their efforts to make in-roads on the overall industry, the TOTO C100 Washlet offers a wonderful compromise that may even work on the current model you have. It's an electronic bidet seat that offers a pre-mist option that can prevent waste particles from sticking in your bowl.
There are several other modern features to consider with this seat as well. Once you have it connected to your water line, it will provide a front and rear warm-water cleanse that helps you to comfortably clean yourself. There are 5 adjustable pressure and temperature settings from which to choose to create the perfect level of comfort. You can also take advantage of the heated seat, warm air dryer, and the automatic deodorizer to create the perfect place for relief in your home.
All of your controls are accessible through a convenient arm control panel that sits on the left of the product. Although this design extends the width of the fixture by a few inches, it will still work for a majority of bathrooms. We found that the docking station was very easy to install on a current unit, and cleaning it was a straightforward experience. The TOTO C100 Washlet even comes with a self-cleaning wand that reduces the amount of physical labor you need to ensure a hygienic experience.
The seat comes equipped with a soft-close feature that prevents slamming so you don't inadvertently break this investment. In return, you'll receive cutting-edge innovation for your bathroom without needing to hire someone to install the technology for you. The heated seat comes with three different temperature settings to ensure that you have the right amount of coziness in any season.
Our only real issue with this bidet seat is that it's built to accommodate a person of average stature. If you are a little taller, then you will need to remember to back up the spray every time you use the bathroom because it resets to a default position. It would be helpful if there was a memory option available with this design to accommodate those who require a custom position.
You'll need to have two tools to complete your installation: a Phillips screwdriver and an adjustable wrench to tighten your connectors. Most modern toilets come with plastic threads or connectors, so take care when loosening or tightening to avoid unintended damage.
We found that the TOTO C100 Washlet is a wonderful way to introduce your family to the wonders of the modern toilet. You can use it on your existing unit at home or incorporate it with most designs today's manufacturers offer. Make sure to match up the round or elongated style appropriately, plan for about 30 minutes to install and then you'll get to enjoy the comfort and convenience of this innovative product. Click here to compare prices on Amazon and find the best deal on the Toto C100 Washlet.
Best Smart Toilet
Pros:
Pulsating Wash
Self Cleaning
Smart Toilet Seat
Cons:
The WoodBridge T-0008 offers one of the best bathroom products that you can purchase in North America. You'll receive the manufacturer's exclusive bidet seat with the one-piece design while embracing the minimalist aesthetics of the product.
It offers a low-profile skirtless exterior which features an elongated design, working with the other elements and features to create a fantastically comfortable experience. There is a comfort height element to its design while it promotes less water use than older models thanks to its high-efficiency, WaterSense certified design.
There are numerous features to enjoy when using this WoodBridge unit. It offers a water heater and a warm air dryer to ensure that the bidet function is never uncomfortable while providing an extraordinary clean. You have access to an unlimited amount of warm water when using this product, although you only really need a couple of sprays to make everything better.
Cleaning is simple with this model thanks to the stainless steel nozzles included in the design. Even with scale present in your water, you'll be able to keep the water flowing nicely in the bowl and the bidet with this element. That means the feminine wash, posterior wash, and other bidet features similar to a Japanese model will always be ready for use in the bathroom. There is even an energy-save mode incorporated into the design to minimize impact on the environment.
The bowl height for this unit is just under 17 inches, providing a comfortable height that works for most people. You have access to a remote control that will allow you to initiate the pulsating feature, although it is a simple on/off command. The seat warmer might be its best feature, especially if you live somewhere that gets quite cold in the winter.
If there was one area of improvement for this WoodBridge unit, it would be with the glazing. All visible surfaces as installed are glazed, but the inside of the holding tank and underneath the unit are not. It doesn't automatically flush or open the lid either, which can be a glaring issue for someone who wants to experience all of the features of the best modern toilets.
We found the installation to be simple and straightforward, although you'll want to ensure that the bidet will attach to your unit right away before unboxing everything. Older homes may require an adapter to take advantage of this feature, which is something that is not always easy to obtain.
If you are looking for a smart model that will help you maximize the benefits that your bathroom can provide at home, then you will definitely enjoy what the WoodBridge T-0008 provides. It is a wonderful addition to your personal care routines and will support people of all shapes and sizes. Click here to compare prices on Amazon and find the best deal on the WoodBridge T-0008.
Best Luxury Toilet
Pros:
Double Cyclone
Hands-Free Flush
Heated Seat
Cons:
If you want the best in luxury for your bathroom and you live in the North American market, then the TOTO Neorest is going to be the perfect solution for you. It offers a double cyclone flushing system that effectively removes waste particles from the bowl while offering the convenience of a one-piece skirted design to provide a modern look for your space.
You'll also begin to save water when you install this model in your bathroom. The TOTO Neorest is a dual-flush model that offers an ultra-high efficiency rating of 0.8 GPF when you choose the partial option. Even if you flush a full tank, it only requires 1 GPF to give you a clean bowl. The elongated design provides you with the comfort that you expect, while the soft-close seat ensures that your investment will continue to support your home for years to come.
This model is one of the few available for residential homes outside of Japan that offers an automatic flushing feature. You'll also receive a heated seat where you control the temperature. When you are finished using the restroom, there is an aerated water spray that gently cleans while it pulsates or oscillates based on your preference.
Although the TOTO Neorest is an investment, you don't want to settle for the copycats that are out there. You'll quickly realize that this model provides a level of comfort and cleanliness you may
have never thought possible in the modern bathroom. The lid opens automatically thanks to the presence of radio frequency and infrared sensors, eliminating the problem of having the seat up or down.
There's only one concern that we have with this model and it involves dog owners. The automatic functions of this toilet do not differentiate between human and pet movements. If you have a pet that drinks out of the bowl, they will quickly learn that the toilet will open for them to enjoy the magic of drinking the water. Then the automatic flushing mechanism kicks in. We recommend closing your bathroom door to prevent this issue.
You can also disable the automatic opening and closing of the lid, although the manual functions are a little awkward to use.
If you are looking for a luxurious experience that offers reliable flushing, then the TOTO Neorest is the perfect fixture to add to your home. It may be a little quirky at times, but this model will take your bathroom experience to the next level. Click here to compare prices on Amazon and find the best deal on the Toto Neorest.
Features of the Best Modern Products
When you consider a high-tech toilet, it's the features that each model provides that help to separate each model from one another.
With the best modern units, you can find almost any feature you desire incorporated into at least one design. That makes it possible to turn your flush-and-go experience into something that's more personable and enjoyable.
These are some of the most popular features you can find with the modern designs.
Hands-Free Operations. Some models will open the upper seat lid when they detect movement in the bathroom. When you're finished using the toilet it will flush and close the lid automatically.
Bidet. You can choose a model that incorporates a warm-water spray that helps you become cleaner than using paper products alone.
Air Dry. If you do choose to use a bidet (or a toilet-seat bidet) at home, then you don't want to pull up your pants while you're wet. This feature gives you a nice warm drying experience.
Push Button Commands. If the unit doesn't respond as you want, some models provide commands you can press near the tank where you can manually initiate the features that you desire.
You will find additional features available too, such as a heated seat, LED nightlight, and partial flush options.
If you really want to approach the edge of the technological window for toilets today, then consider one that offers an app. You can then control the features remotely whenever it's time to use the bathroom. Some models even come with a digital diary to help keep track of your habits.
Why Choose a Modern Unit?
Although importing a genuine Japanese product may not be the best solution since there may be issues with the rough-in and water regulations, you can replicate that experience in North America and Europe if you know where to look.
That means you must search specifically for the exact modern components that you want. If you only search for the feature, then there is an excellent chance that you'll discover a handful of models that are priced outside of your budget and don't meet your exact needs.
You can divide the available technologies into four separate categories: design, hygiene, comfort, and convenience.
Once you decide on the appropriate category, you can begin to search for specific technologies you want. Design elements include comfort height, WaterSense® certification, and one-piece vs. two-piece decisions.
Hygiene might include adjustable water pressures, filtration, or a pulsating bidet.
Comfort options include unlimited warm water, heated seats, and massage functions.
In the convenience category, you might look for self-cleaning nozzles, safety sensors, or nightlights.
You'll discover that today's major manufacturers offer products that can check off several of those boxes. That means it's up to you to determine which models will provide you with the best overall experience.
The best way to do that is to spend some time with the best modern toilet reviews.
Modern Toilets in the United States
If you're thinking about the benefits of a Japanese unit in the United States, then you'll discover that product availability is minimal. TOTO® has tried to bring washlet technologies to American consumers for nearly a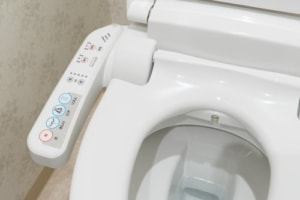 decade. There is a reluctance to change restroom habits at the individual level, which is why most homes are still using technologies that are several decades old.
As the saying goes, "If it ain't broke, don't fix it."
72% of homes in Japan now use a bidet-style model as part of the standard bathroom experience. Trying to make a headway in the U.S. market is a different experience. About 1% of homes in the United States use this technology.
That means your best solution for a modern unit is to either focus on the design of the model or to purchase a seat that will provide you with a series of benefits that are similar to Japanese products.
What About The Cost?
If you want to purchase a new unit that offers the best features available, expect to pay around $600.
For homeowners that want to include more of the Japanese experience in their home with a unit they already own, then a bidet seat is the most economical solution. Most of the models in this category run between $300 to $400, but they will offer all of the modern features that you want in this product.
If you prefer a smart toilet that offers all of today's best modern features, then expect to pay between $750 to $1,000. You will typically receive a bidet seat in the box if you choose this option.
Is It Worth the Upgrade?
Whether your bathroom needs a full remodeling project completed or your toilet just needs to be replaced, taking a look at the smart models that are available is worth the effort. Not only do they add a "cool" look to your home, but they are also designed to make life easier.
Although several different models are available in the smart toilet category today that offer a wide range of features, there are some standard options that apply to almost every model in this category.
Overflow Protection
This feature is a must-have item in any home with kids. When you flush with a clog, there is an excellent chance that a standard fixture will overflow, creating a gray-water mess on your floor that's a headache to clean. A smart unit recognizes that this issue occurs with a clog, stopping the flushing process allowing you to address the blockage in your system.
Water Savings
If you live in a region where water conservation demands are exceptionally high, then a smart toilet can accommodate your needs from the first flush. Some models can produce a full flush at just 0.6 gallons because the fixture senses how much water is necessary to complete the removal of waste particles from the bowl.
Power Resources
Smart fixtures can use a lot of energy as a way to help you save water, so it can seem like you're trading one utility cost for another. This technology upgrade needs power to be useful! Some models use batteries that will help you to begin taking advantage of these features, but there are a few which require an electrician to hard-wire the fixture to your home's system.
Automatic Flushing
Do you live with family or friends who never seem to remember to flush the toilet? The sensors that come with smart systems can provide an automatic response when they leave the bathroom. Some models still require a hand to pass over a sensor to activate the mechanism, but it results in a hands-free experience. Having fewer waste particles lingering in the bowl can reduce your cleaning requirements as well.
Once you get beyond the standard features that most smart units provide, you will discover a plethora of additional options that can help you design the bathroom of your dreams.
Which of these features would you like to see on your brand-new toilet?
A bidet with a massaging option as it cleans.
Air dryer with warm or cool choices.
Heated seats.
Foot warmer.
Self-cleaning features.
Sensors that can detect water leaks.
Emergency flushing that occurs during power outages.
Bluetooth capabilities.
Bring Home a Modern Smart Toilet Today!
If your fixture is more than 10 years old, you will experience a tremendous upgrade in comfort and convenience with one of these options.
Even if you only upgrade the seat, you'll discover that smart technologies have revolutionized how we can approach the bathroom.
Choose the model that you prefer today, and then begin to enjoy all of the benefits that occur when you have the best modern toilet supporting your home.