Are you tired of having to rush miles from your camping site just so you can use the bathroom? Could you use a toilet for your small boat when you're out on the lake fishing? These portable toilet reviews will help you select the perfect option for your boat, RV, or that little corner of your workshop. You don't have to hold it, why wait when it is time to go? Find a great portable toilet today.
Our Top-Rated Picks
Finding great products online is not always as easy as using a search or filter to find products. Real consumer experiences, along with practical reviews, create an excellent data combination that can help you find an excellent product at a price your budget can afford.
These are currently the best overall products in this category.
Best
Pros:
Ergonomics
Leakproof
Hold Down Kit
Cons:
If you want to experience the ultimate in luxury from the portable toilet category, then this model is your best option. The White Thetford from Porta Potti offers a versatility that most other models are unable to match in this category. It is well-suited for use whether you travel in a boat, a van, or an RV. You can use it while camping, in some healthcare situations (goodbye bed pan!), or for your off-the-grid living needs.
What is so nice about the White Thetford is that it offers a slim, sleek design without compromising on the look and feel that you would get at home. The seat height that is incorporated into this design makes the unit easy to use, while the large bowel size and battery flushing mechanism allow you to enjoy a hands-free experience when you need to use the bathroom somewhere.
From a sanitation standpoint, the White Thetford is odorless. It doesn't leak if you follow the instructions of the manufacturer when installing and using this product. It also offers a pour-out spout that allows you to empty the wastewater tank without dealing with the issue of back splashing.
We would highly recommend the optional hold-down kit which comes with this model to secure your unit to the floor. If you need to go while on the road, this feature will prevent wobbling or slippage that could create an uncomfortable or messy situation while traveling.
You will receive a small supply of waste digestion and deodorant inside of the box, giving you enough product to handle four complete uses and refills of the 5-gallon container. You can also use the waste cap as a measuring cup to ensure that you're using the right amount of waste dissolver liquid.
The automatic flush feature does provide a potential element of confusion that some users may find bothersome when using the White Thetford. When you activate the mechanism, then it will only rinse out the tank. It does not actually open the valve to drop the waste particles into the holding tank.
You need to use the rinse feature with this model to ensure proper waste disposal. If you have liquid waste to remove, then close the seat. This process will then allow you to open the waste valve, and then press the rinse button. You may need to perform that action twice for solid waste particles, especially if there was not any water in the bowl.
If there was one place for improvement, it would be where the toilet paper holder is located, which is on the bottom right of the unit. If someone were to miss the bowl while standing up, there is an excellent chance that your TP will end up with some streaks of yellow.
Otherwise, we found the White Thetford from Porta Potti to be a practical mobile toilet that does an excellent job of meeting your bathroom needs. It will serve you well in a wide variety of applications. Click here to compare prices on Amazon and find the best deal on the Porta Potti White Thetford.
Best for Camping
Pros:
5.3 gal capacity
Bellow flush
Minimal Water
Cons:
If you are looking for a large capacity travel toilet that is exceptionally affordable, then the Canco Standard Portable Travel Toilet is going to be one of the best investments that you make this year. The manufacturer provides a standard design with a comfortable square seat that allows you to have a bathroom available whether you are camping, using your boat, or traveling with your RV.
It offers a 5.3-gallon holding tank which is detachable with the unit's design, making it a lot easier to take care of your wastewater compared to models with a similar design. The Canco Standard offers a bellow-type flush that can handle repetitive use thanks to the sturdiness of its design. This feature is complemented by the side latches built into the structure of the unit which secure the holding tank.
This model features a 2.5-gallon flush tank in addition to the holding tank to ensure that you can go to the bathroom without difficulty during your travels. Although the seat width is just 13 inches, you will still feel like there is plenty of room when you sit on the unit for the first time. When you combine this design element with the rest of the unit, you will find it to be an easy way to have more bathroom access when you are out and about each day.
On the bottom portion of the waste tank, you will also find a sliding gate valve on the Camco Standard which allows you to create an odor-resistant, water-tight seal. This design elements also
makes it very easy to take care of your maintenance chores when handling this unit. It is one of the easiest emptying units that we have found available on the market today.
You will also receive TST Orange drop-in samples in the box that can help you to take care of the initial maintenance needs for the unit.
Although there are numerous positives to consider with this unit, it is also important to note that it offers a maximum weight capacity of 330 pounds. If you attempt to use it over that capacity or set heavy items on top of it, then the integrity of the seals can be compromised.
We found that this model was designed to be useful in most situations, offering comfort where it may be uncomfortable to go to the bathroom otherwise. We would recommend having some protective disposable gloves available when working with this unit, but otherwise we found the Canco Standard to be a convenient, affordable option that will reduce the restroom emergencies you sometimes experience when traveling. Click here to compare prices on Amazon and find the best deal on the Camco Standard Portable.
Best for RV
Pros:
Taller Seating
Single Pedal
Textured Lid
Cons:
If you are looking for a product which has plenty of different use options, then this is the model you are going to want to take a closer look at today. Although the Aqua-Magic V is designed to work in recreational vehicles, we believe that a little creativity can help this product work almost anywhere that you may need to have an extra bathroom.
This model offers the classic style that you would expect from a standard household bathroom. The look and feel of the product are similar to what you would use if you were at home. It also comes with a taller design for easier seating or a low-height model for those tight spaces you may have. We found that this toilet, when correctly installed, will work almost anywhere thanks to its durable design that resists scuffs and other marks.
It features a single-pedal system for flushing that reduces the need to pull levers of handles to place waste particles into the holding tank. When you press it halfway, then you can add water to the bowl. Then engage the mechanism all of the way to receive a flush that covers 100% of the bowl. You will not believe how effective this design is at creating a clean bowl for each user to use after
going to the bathroom!
Despite all of the conveniences that are available with this portable model, you will discover that it is extremely lightweight. It weighs less than 10 pounds, which means you can take the Aqua-Magic V RV Toilet anywhere with you. The unit is easy to install and service as well. We found the instructions to be complete and thorough.
The one issue we did experience when using this design from Aqua-Magic is that the water consumption levels tend to be a little high when compared to other models. If you have a hand sprayer available in your RV or shop, then it helps to spray down the bowl before going to the bathroom. If you use this technique, then you can potentially reduce the number of times that you need to clean the unit without sacrificing the overall cleanliness it provides.
You'll receive everything in the box that you need to begin the installation process right away. That includes the gasket seal for the toilet and the chemicals for the holding tank. It will then drain directly into the RV tank, which then allows you to connect it to a sewer line or other servicing facility.
If you love to travel and don't have a camper van or recreational vehicle which offers a bathroom, then you will enjoy this portable toilet. You can connect it to other tanks on your property as well if you prefer. Although it isn't as easy to use as a 100% portable unit, we found that the value offered with the Aqua-Magic V is something that cannot be ignored. Click here to compare prices on Amazon and find the best deal on the Aqua Magic.
Best for Boating
Pros:
Comfort
Easy Empty
Carrying Case
Cons:
One of the most significant struggles that owners have with their portable toilet is knowing when they need to service the unit. Many models fail to offer any type of indication that your basin is becoming full, which means you are left to your own devices to determine when servicing becomes necessary. With the SereneLife Outdoor, that issue is resolved thanks to the incorporated toilet level indicator.
That is only one of multiple features that are nice to see when taking a look at this portable model from SereneLife. It offers a 5.3-gallon tank which will hold plenty of wastewater for you, reducing the overall number of servicing chores you need to perform thanks to its bigger size. This model empties exceptionally fast as well through its splash-free pour spout that rotates. You will discover that the number of odors which reach your nose thanks to this design are significantly reduced.
We also appreciate the fact that you can go to the bathroom in comfort anywhere thanks to the easy-carry design which is available with the SereneLife Outdoor Portable Toilet. Whether you're on a camping trip in the backwoods or traveling with your family in an RV, this product gets the job done.
It will even work well on a boat thanks to the fact that it requires zero external water or power connections.
We did find that the level indicator is somewhat deceiving with regards to easy cleaning. If you wait until it is completely red (which indicates a change is necessary), then you will find it difficult to
empty the wastewater without splashing it everywhere. It is much easier to take care of this issue when the tank is about 75% full instead. You will also want to use an agent that will break down the waste in the holding tank to maximize the potential of this unit.
You'll receive between 40 to 50 flushes between servicing needs.
As for the seat, we found it to be a little small for the average person. You'll receive about 9 inches in full diameter when using it, which is admittedly standard for most portable designs. There are fewer ergonomic features incorporated into the design, which is why it feels a little more uncomfortable than other models in this category.
The SereneLife Outdoor Portable Toilet is a strong product made of durable materials that will help you to create a bathroom space wherever you decide to travel. It is lightweight, convenient with its carrying case, and will help you to create a comfortable place to go when you need to use the bathroom. It may cost a little more than some of the other products, but it is still worth the investment. Click here to compare prices on Amazon and find the best deal on the SereneLife Outdoor.
How to Find the Right Model for Me
The best portable toilet serves one purpose: to give you a convenient place to use the bathroom when there are no other practical options.
I can remember as a kid traveling across the United States with my grandparents. It used to take forever in those days because the maximum speed limit was 55 mph.
I was four years old, maybe five, and I can remember needing to go to the bathroom urgently. When I asked my grandpa if he could stop, he just handed me an empty coffee can. "There's your portable toilet," he said.
Today, there are better options than bottles and cans. The best models replicate the experience you receive in the bathroom at home when you're away from home.
You can find options meant for the backcountry, portable toilets for the backyard, and even models that work well in camper vans and RVs. Each option provides a sanitary way to dispose of the waste too, reducing the risk of exposure no matter where you happen to be.
Advantages of Owning a Portable Toilet
The primary advantage is that you have a place to go to the bathroom when there isn't another option. Some of the models in this category are essentially a 5-gallon bucket with a seat for a lid, but that is better than nothing when you're about to perform the adult version of the potty dance.
Another benefit to consider with the modern designs is that it is lightweight and portable. You can pack most of these models with your other travel essentials to take them almost anywhere.
Some brands even include a screen or tent that you can pop-up around to create some extra privacy. Then you are given sanitary options that help you to pack out what you left behind to preserve the environment.
A final advantage involves the drainage and cleaning of these units. With chemicals and additives that can break down the solid particles, you can place the liquid into a black water receptacle without risking exposure or odor issue while working.
Disadvantages of Owning a Portable Toilet
The primary disadvantage to consider is the odor that some can emit. You will want to look for a model which offers a dual basin to minimize this issue.
Another way that you can proactively prevent odor with this technology is to look at the strength of the seals. Watch for models with extended warranties on this specific item to indicate which ones are better than the rest.
Cleaning is another significant disadvantage to consider. Even with hands-off draining options, you must still open the compartment to completely remove the waste unless there is a sanitary bag included with the design. If you fail to properly maintain your unit, then the odors tend to "eat" into the materials and linger over time.
A final consideration involves comfort. Although today's portable toilets do an excellent job of replicating the traditional toilet experience, you will discover that using this product outdoors where privacy can be limited is sometimes challenging.
Trying to use a portable toilet while in a vehicle can also be an inconvenience for some.
What Are the Chemicals Used?
When you own a portable toilet, then it becomes your responsibility to manage the waste that gets left behind. There is no plumbing or sewer line to simply flush your business away. Many of the models that you will find in this category today require that you use chemicals or a natural product which will help to break down the solid particles which are present in the wastewater.
If you are using a chemical design, then you will see a reservoir located directly below the seat. This design makes it possible for the unit to reduce odors while performing a partial disinfection of the solid particles that get flushed.
Before using, it is essential that you check on the availability of chemicals in the unit. Most models offer a "T"-shaped handle which allow you to view the current contents. If you see liquid or powder in there, then it is ready to be used. If there are not any chemicals present, then you will need to add them according to the instructions provided by the manufacturer.
If you did not receive any instructions regarding this process, then here are some generic steps for you to follow.
Separate the top and bottom of the toilet by unlatching the sections where indicated. Most models offer clips that are on the right and left sides. Lift the top section away from the bottom, and then set it aside.
Now you will need to open the waste reservoir. You can do this by pulling the handle which is located in the center part of the front base. This movement will cause the sliding door to open, revealing the waste reservoir in the base.
This step is where you will add the chemical disinfectant to your product. Do not add chemicals to a basin unless the manufacturer includes this requirement as part of the care and maintenance of your product.
Now you can replace the top half onto the reservoir base on the bottom. Make sure that the clips on the side of the unit are firmly closed. Even if they are only partially open, it will create a higher risk for a leak during your next flush.
Add water according to the instructions provided by the manufacturer of the unit or what you see on the chemical agent. Then close the waste reservoir by pushing the handle back into place.
Keep in mind that this information is for general purposes only. We cannot be held responsible for any damages or injuries that occur if you attempt to follow the above steps on a unit which requires a different procedure.
How Many and How Much Chemical Should I Use?
Most of the chemicals which are available for the modern portables come in prepackaged containers. You don't need to worry about how much to add to the unit because everything is already portioned specifically for your needs.
If you decide to purchase your chemicals in bulk as a way to save some cash, then estimation will usually be enough to create positive results. Look at the overall amount of wastewater fluid that the container says it can treat. Then divide that amount by the size of your basin.
Let's say that you are using a 5.3-gallon portable unit, but the chemicals that you purchased to care for the product treat 100 gallons in total. You would need to divide the number of treatable gallons by the size of your tank to generate a solution that you can use. In this situation, you would want to add about 1/18th of your chemicals during a service.
How do you calculate 1/18th of a container? Let's say that your chemicals are a total weight of 70 ounces. You would want to divide that overall number by the fraction that you have. In this example, we would take 70 divided by 18 to generate a result that is 3.89. That means we would want to use 3.89 ounces of chemicals to ensure everything is properly sanitized.
You can find measuring containers that will allow you to achieve this precise number online or through any kitchen supply store. A best-guess will usually be enough, but make sure that you are not under-estimating too severely as that could lead to bacterial growth in your basin. It is usually better to be a little over rather than a little under.
Care and Maintenance
The best way to care for the modern moveable toilet is to include a plastic liner in its basin before using the product for the first time. You can find these products online or at your preferred camping or sporting goods retailer.
Make sure that you change the liner periodically for the best possible results. High-grade plastic is odor-resistant, but it can still give you a foul smell if you don't change it during the regular cleaning process.
If any solid particles escape the basin liner for any reason, then a thorough cleaning of the portable toilet is required. Make sure to follow all black or gray water rules that are in place for your location when taking on this task.
You can also cover the bottom of your liner with kitty litter after placing it in your toilet basin to eliminate some odors as well. If you choose this option, then you will want to swap out the plastic every time you need to empty the container.
Can I Use Toilet Paper?
One of the most important questions that many are afraid to ask when using a portable model is if they can use toilet paper when they need to go to the bathroom. The answer is either "yes" or "no" depending on the type of TP that is available.
If you have 2-ply or 3-ply toilet paper at home that you want to pack along for the road with your portable unit, then that is not necessarily the best decision. Although the TP will break up over time, the chemical agents in your basin will not help it to dissolve quickly. The added bulk of the paper will cause you to have frequent servicing because it will fill up the container quickly.
You will want to use a specific toilet paper that is recommended for use in marine or RV sewage holding tanks. This TP option may only be a 1-ply product, but it also dissolves rapidly in the chemical agents used to disinfect the solid waste particles. You will notice a substantial reduction of bulk in your tank if you use this option over the previous one.
It can take some time to adjust to a 1-ply tissue. Using a small portion can leave behind a mess on your hands with inferior brands. That is why the best toilet paper and the best portable toilets are a winning combination that you'll want to consider using today!
How Much Do Portable Toilets Cost?
If you don't want to have something fancy when it is time to go to the bathroom away from home, then you can grab a portable lavatory for roughly $20. That'll get you a 5-gallon bucket, an ergonomic seat, and a few plastic liners that will help you to dispose of the waste.
When you want something more modern, such as a chemical design, then you can expect to pay up to $200 for that privilege. Composting designs which offer portability for RVs and camper vans may run upwards of $1,000 if you purchase the best available model today.
The best portable toilets make it possible to create a bathroom wherever you happen to be. Whether you travel in an RV or plan to hike into the backcountry, you will discover that one of these models makes it a lot easier to manage your restroom requirements. Choose the product which best meets your needs today, and then enjoy the next adventure!
Basics of Portable Toilets for Boating, Camping and RV'ing
From the convenience of setting up anywhere, to the sanitary benefits offered, portable toilets are useful inventions. Are you someone who goes fishing on your boat often or do you have a camping trip coming up? Here are some of the basics of using mobile toilets that you should know about.
For Boating, Fishing and Other Water Recreation
Why do you need portable toilets when you go boating?
'When you gotta go, you gotta go!' This becomes a practical reality only when you have your portable toilet. Unless you have a lavish yacht with a built-in toilet, it is always a wise decision to carry your portable toilet with you.
Modern-day portable toilets are convenient to use. Most of them come with a small build which allows them to be used even on the smaller boats and the open ones like Pontoons. When you are traveling with the whole family, especially with kids on board, this becomes a necessity as you cannot expect the little ones to control their bladder even for a few hours.
Unlike camping and RVing, carrying a portable toilet is the only good option available for boating. The good news here is that you can choose one that blends with the looks of your boat and one that is affordable as well.
Can you empty your toilets in the ocean?
Federal and State law do not allow untreated waste from the portable toilets to be dumped directly into a body of water, whether it is a freshwater lake or the ocean. Some places come with onshore dumping stations allotted particularly for the disposal of portable toilet waste. You can even use the onshore toilet facilities for emptying your portable ones. Therefore, you would need self-contained designs with a sufficiently sized container for storing waste till you reach the shore.
What are the types of portable options that you can choose for boating?
Bucket systems have been popular for ages, and you would still be able to find some innovative designs in this category. Today's versions come with a comfortable seat as well. If you choose one that comes with a large capacity bucket, then you are all set to hold the waste for the whole day. Or even for several hours till you reach the authorized dumping zone. If you choose to carry for the entire day with a bucket toilet, you should also look for suitable odor control measures. The other type that are quite like the bucket model are the container toilets. For both these toilet designs, odor control is tricky, and so is the process of holding the waste without leakage.
The most popular type of portable toilets available for boating is the chemical toilet. This comes with a chemical treatment option that takes care of the waste decomposition. The disintegration of waste here happens within the sealed container, which also helps lock the odor. You will have to replace these chemicals that breakdown the waste periodically. Some come with color change indication to denote the need for refiling the chemicals. You can then dump the treated waste safely in the designated dumping zone once you reach the shore. As you can efficiently manage waste for a relatively long period, this one is suitable for boat journeys with the whole family. The effective control of the odor also makes this an appropriate option for use in a closed space with very little ventilation.
The other type of toilet which is gaining a lot of popularity these days is the compost toilet. This type of portable toilet offers the convenience of use and is also an environment-friendly option. The concept is quite like that of the chemical toilets, but this toilet converts the waste to compost. There are many lightweight compost toilets available for use even on the smallest boats.
What makes an excellent portable toilet for use on the boats?
Whatever be the design, look for the ones that come with capacity that suits you and your family. You should also look for one that comes with a suitable height that makes it convenient for the kids in the family.
Once you have thought about these parameters, you should also look for an ideal placement of the portable toilet. Most of the portable toilets designed for use on boats are light in weight. This makes it easy for moving these toilets around without having to assign a fixed spot for them. This feature matters a lot on the small boat where having an attached toilet is not an option. Therefore, the toilet can be tightly sealed and stored away when not in use. The lightweight design also makes it easy to dump the toilet at the dumping stations.
The ease of setting up the toilet is the other main factor to consider. On a boat that is on a wobbly ocean surface, you need to finish the business quickly. Therefore, you need something that can be set in place speedily and thus be ready for you to use in moments.
For the rougher marine environment, you would also need a portable toilet with durable build quality. This can be used to bear the weight of all the members of the family.
There are many that come with a freshwater reserve for sanitary cleaning and odor-free use of the toilet. The size of the freshwater reserve might affect the waste storage capacity of the toilet based on the overall size. Some deodorants can be added to most of these toilets to provide an odor-free toilet space. If you are choosing a portable toilet with freshwater reserve for the boat, then choose one that comes with a detachable tank design. This will help remove or empty the freshwater tank and carry only the waste tank to your disposal area, reducing the weight that you must carry.
The flush mechanism included in the toilet is the other main factor to look into while choosing portable toilets for the boats. Some come with battery operated electric flush. If you have a long trip planned, selecting a manual flush would be a better option to help you save power while you are out on the sea.
For Camping and Hiking from Camp
Why do you need portable toilets on a camping ground?
When you are out camping in the wild, a portable toilet is the best hygienic option to rely on. You do not want to fall ill while you are out having a great time. With worms and crawlies creeping around and with the possibility of coming across poisonous foliage, reliving in the open is not always the best choice.
One of the other significant problems with relieving yourself out in the open is that you might be affecting the sanitation of the camping site. Human waste can attract flies, mosquitos as well as rodents. This can affect the overall hygiene of your camping site. It would also make the spot unfit for use if you plan to cook on the camping site.
If you camp close to a river where you have access to clean water, the situation would be slightly better. That would not be the case all the time. Therefore, you would need an idea that helps you conserve water while also keeping up the sanitation requirements. For such times portable toilets are the best choices. The composting toilet, as well as chemical toilets, are both suitable for such camping sites.
One other major reason why you need a portable toilet while you are camping is to preserve the sanctity of the spot. There are reserve forest areas where defecating in the open is prohibited. In other places, it is purely out of love for nature that you might not want to do it. This is also why carrying your portable toilet is beneficial. Much like a boat trip for camping with kids, use of a portable toilet is the safest and the most convenient option.
What are the standard rules or regulations in camping sites?
The rules and regulations regarding the use of portable toilets and the dumping of the waste vary depending on the type of camping site. On primitive camping grounds and reserved forest area, the rules are stricter. Most of the commercial camping sites come with designated sanitary dumping stations located close by. The campground owner abides by the law governing the number of toilets required in the area. In this case, there would also be a connection to a public sewer or septic system from the waste disposal zone of the campground.
When you are camping on your own, often the rule to remember is to avoid dumping the waste in the ground. You can check for the local licensed dumping stations located in the proximity. The same way you choose a large capacity toilet for your boating trips you can pick one with similar features for the camping trips as well. Large capacity waste storage tanks would be one of the most important details to consider.
The other popular option you have while you are camping is to use a biodegradable disposal bag for the waste. There are landfill approved sites where you can dump the waste along with the bag. The same also applies to the toilet tissue you use if you plan to dump it in the landfill. Switch to a biodegradable toilet tissue for your camping trips for use with portable toilets. These would also be easier to break down even if you are dumping at a chemical waste treatment area.
What would you need when you use a portable toilet in a camping ground?
Here are some of the features to look for while picking a portable toilet for camping:
Stability. Finding flat surfaces for placing the toilet might be a struggle at times. Therefore, you need something that comes with a stable design. This will ensure that the toilet doesn't tip and spill the contents when you are using it or when you are storing it.
You would need to decide on a dedicated zone for placing the toilet and the replacement cassettes. This should be an area that is far away from where you store your food for the camping site. This step should be taken even if you are going to use a tightly contained toilet which totally locks the odor.
Storage. When you are out in a camping site where you do not have access to clean water, you would need a low maintenance toilet, one that is self-contained. These are the ones that come with partitioned waste tank and clean water tank. You would also need one that comes with a secure lid so that the toilet would not attract flies or pests.
If you use a composting toilet for a camping ground, then the disposal becomes easier. You can also take the compost back home to use for the garden. Today there are plenty of choices when you are picking portable toilets no matter which type works for you. Therefore, you can find one that fits your budget, one that suits your family's needs. Make sure that you pick a suitable capacity. Consider how far from the camping site the disposal spot is. You should also consider the mode of transporting the waste disposal tank of your portable toilet or the waste disposal bags.
Simplicity. No matter how reliable your portable toilet is, there are quick repairs that you might have to perform when you are at the camping site. Learn about the mechanism of the toilet and the flushing system. Thoroughly understand the various parts and perform regular checks to ensure that your portable toilet is working in good condition. This will bring down the chances of being stuck with a broken toilet in the middle of nowhere. From dismantling the set up to filling the freshwater tank, refilling the chemicals for treatment of the waste, there are plenty of basics of using the portable toilets that you should be confident about. You should also carry all the essential cleaning supplies, the chemicals, and deodorants to be added in the toilet.
For Recreational Vehicles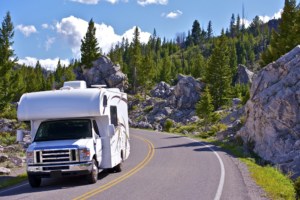 If your RV comes with a pre-installed toilet, then you are in luck. Though not all campers come with the lavish room to create a dedicated toilet zone. Portable toilets are therefore considered to be more convenient alternatives that can be useful even for the small RVs. The other major benefit is that using a portable toilet can be a more affordable option than getting a dedicated bathroom created in an RV. This would also turn out to be a low maintenance option in the long run and therefore, a cost-effective step to take for the RV.
The need for frequent dumping of portable toilets is one of the biggest problems. Modern-day options come with larger storage and efficient waste treatment that allows carrying the waste for long hours until you find a dumping station or a regular toilet. You can use a composting toilet inside an RV if you need a long-term option and if you do not have many disposal stations on your way while you travel. There are portable composting toilets which can be worthy investments.
Tips while RVing
You need your portable toilets when you set out on a long road trip with no assurance of finding washrooms on your way. If you have plans of halting your RV in the wilderness and pitching a tent, you would need a portable toilet for providing a safe and clean toilet for your whole family. This is also handy when you have senior members of the family traveling with you. They might find it challenging to relive out in the open or wait until you find a good washroom along your route.
Start by choosing the right type of portable toilet considering the capacity requirements, the disposal mechanism, and other features. There are foldable toilets for easy transportation and can be used to save storage space inside RVs. Flushable toilets can be the most efficient solutions for camping, RVing as well as for boating.
Here are some steps to follow to ensure the best use of your portable toilet;
Treat with chemicals. In most of the portable toilets, you will have to add the waste treatment chemical and the deodorizing agent into the waste disposal tank. This must be done before you start using the toilet. If you have a convenient flushable toilet, flushing a few times after you add the deodorizer can help control the odor.
Use the right chemicals. Check the manufacturer recommendations for choosing suitable chemicals and deodorizing agents. The quantity to be added would also be recommended. Following this will ensure the effective treatment of the waste.
Save water. Choose portable toilets that come with water-conserving flush mechanisms. This would be a toilet that uses as little water as possible. There is no hassle of frequently refilling the freshwater tank. Even if you have an efficient flush toilet, make sure that you use the flush cautiously without wasting too much water. Using too much water for flushing would increase the weight of the waste tank and require frequent dumping as well.
Check connections. Different manufacturers have different assembly mechanisms for putting together the tank and the waste tank. Understand this to easily separate them when you have to store them away for disposal. Make sure that the outlet pipe and the connection to the freshwater tank are sealed once you remove the waste tank. Carry it in a portable toilet bag so as to avoid spills.
Cleaning. As soon as you empty the contents of the waste disposal tank, make sure that you give the tank a thorough rinse. This will remove residues of the waste as well as the chemicals used for treatment. This cleaning will improve the efficiency of your toilet.
Keep track. There are some portable toilets that come with external indicators that show the level of water in the freshwater tank as well as in the waste tank. This makes it easy to understand when the tank is almost full and stop using it before you head on to the waste disposal point. You would also know when to refill your freshwater tank.
Products that you can buy along with your portable toilet
There are a few products that can increase the convenience of using portable toilets. These might not change the functionality of the toilets directly but can make the whole experience a better one for the whole family.
Pick a sturdy portable toilet carry bag. Choose one that comes with handles. This allows a convenient storage of the toilet. You would also be able to carry the toilet around easily in their bag. These can also add a layer of protection to prevent flies and rodents when you make a pitstop or when you are camping.
For your RVs, you can also pick privacy screens to install on your RV windows when you use the portable toilets. There are roll-up screens that can easily be tucked away when you do not need them. If you need something to give you privacy while you take a pit-stop, there are folding changing rooms designed for camping and boating. Most of them come in a pop-up design that can instantly be set up and used as a changing room or even for giving you the privacy. Some toilets also come with a privacy shelter embedded design if you are willing to spend some extra money. However, these shelters tend to be tall, and they might not fit inside an RV if you do not have enough headroom, so always check beforehand.
We hope you've found some of these tips and ideas useful, and your next trip away is a great success. Happy fishing, boating, camping or RV'ing.