When you begin to shop for a new toilet, it is essential that you think about the height of the model as part of your review process. The standard size from the floor to the bowl is usually 14 to 16 inches, with most units coming in at the 15-inch mark. This size is suitable for most children and adults without creating an uncomfortable experience in the bathroom.
If you or someone in your home struggles with mobility, then a "comfort height" model is a better option. These models stand taller than the rest, with most offering a size that varies from 17 to 19 inches instead. A handful of models are available above 20 inches as well.
What are the advantages of owning a comfort height product? Is it necessary for your home? Let's get some answers to these questions and more for you today.
Which Models Are the Best?
If you have already decided that a comfort height unit is the best option for your home, then these are the best models that are available today. Take a moment to read through each review to determine which option will provide the features that your bathroom needs, and then select the one which makes the most sense.
Best Seller
Pros:
SanaGloss
Fast Flush
Wide Trapway
Cons:
If you are looking to improve the water efficiency of your home, then the TOTO Eco Ultramax is an excellent option to consider. Not only does it offer a comfort height experience with a seat height of 17 inches with the standard configuration, but it also offers a one-piece design that effectively flushes at just 1.28 gallons per flush.
It is also one of the fastest flushing options that you can find for the home today with these features. You will find a 3-inch flush valve incorporated into this model, providing a more consistent user experience when compared to units that offer a standard 2-inch valve. The width of the trapway is also larger, and it's fully glazed to ensure that you receive a clog-free experience every time you need to use the bathroom.
We found that the TOTO Eco Ultramax was very easy to install. It is a little heavy compared to other models due to its extra height, but this is only a minor inconvenience. You'll want to take the time to position the fixture over your mounting flange before lowering it into the final installation position for the best result.
With the Sanagloss finish, you will be amazed at how well this design works to remove waste particles from your home without demanding high levels of water to do it. The unit refills quickly, reducing the amount of noise that occurs with use. Even the reset process is quieter than most models, making it a user-friendly experience at all hours of the day.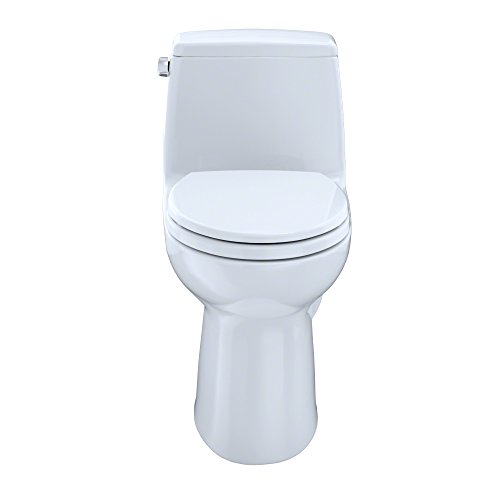 We did notice that the lever position, which is situated on the left side, does sometimes create an uncomfortable user experience. If your installation point is next to a cabinet, then it can be challenging to trigger the lever without catching your hand on something. If the lever faces your bathtub or shower, then you must clean along the interior of the mechanism to prevent mildew formation over time. You can occasionally catch the lever in just the right way to slightly unseat the flapper, which results in a running toilet until you correct the issue.
The TOTO Eco Ultramax does offer a soft-close seat mechanism that reduces slamming issues. It is still manufactured using a high-impact plastic that is ergonomically designed to help reduce injuries during use. The tightening bolts at the top mount are easy enough to use as well.
Although this model may not be the best option for people who are more petite, the comfort height design does make this TOTO model an option for those who require some help with their mobility. It takes the pressure off of the knees in the standard configuration as well, which is a definite benefit for anyone who has a nagging injury from their younger years.
You will find that this model is a tremendous investment that will continue to pay dividends for years to come. Click here to compare prices on Amazon and find the best deal on the TOTO® Eco Ultramax.
Best Value
Pros:
20-Inch Height
Dual Flush
Corrosion Resistance
Cons:
If you are looking for a unit that is much taller than the other comfort height models that are available today, then this option will likely serve you well. The Convenient Height 20-Inch model features a bowl height of 20 inches from the floor to the top of the rim. When you incorporate a standard seat onto this fixture, then you achieve a final height of 21 inches.
This design makes it a lot easier to sit down or stand up when there are movement issues that could create the potential for a fall in the bathroom. You'll be able to add to your bathroom safety without the need for a riser, handle frameworks, or similar add-ons that work with your fixture. Because of its overall size, it may even qualify for a medical expense tax deduction for some households.
Despite the increase in size, you'll still feel like the Convenient Height 20-Inch model provides a standard experience. There isn't any splashing that you experience when going to the bathroom with this model. It even provides a better water economy than other products in this category, offering a dual-flush experience that can be as low as 0.9 GPF when placed on the "light" setting.
The flushing lever is placed on the left side of the tank with the two-piece design. It works well enough, but it may also be the weakest point of this model's design. The plastic is designed to reduce corrosion without
compromising on the durability of the experience, but we did find that an awkward engagement (one that is not straight down and then up) can impact the ability of the unit to reset.
You'll receive a slow-closing lightweight seat in the box with the Convenient Height 20-Inch model so you can use it immediately upon installation. It comes with a 3-year warranty against any defects that may be in the material of the fixture. We found that you'll want to replace the seat if it is the only one in your home because it does tend to wear out quickly.
There is also a notation that this model must be installed by a licensed professional plumber only. Make sure to check if the person or organization you choose is bonded as well for the best possible experience.
If you are looking for a unit that is extremely tall to handle specific medical situations, then the Convenient Height 20-Inch model is the perfect example of how a few inches can make a huge difference. We found it to be a product that lives up to the hype, flushes consistently, and provides the supports you may require to have a safe bathroom experience. Click here to compare prices on Amazon and find the best deal on the Convenient Height 20-Inch Model.
Best Quality
Pros:
ADA Compliant
Universal Height
Clog Resistant
Cons:
There are times when a high-efficiency toilet is the best option for a household. By flushing at just 1.28 GPF, you can meet water-use regulations, lower your utility bill, and do so without sacrificing the bathroom experience. These benefits come at the expense of a higher capital cost, which is why the TOTO Drake 2-Piece ADA is such an excellent find.
This model features their G-Max flushing system, providing homeowners with a low-consumption option that offers 1.6 GPF of support. It offers an elongated design for added comfort with its bowl standing at 16.75 inches before adding the seat. You'll need to purchase the seat separately.
Where this model could use a little help is with the glaze that is inside of the bowl. If your waste particles do not make it to the surface of the water, then the 8 PSI flush that you receive isn't always suitable enough to remove everything from the bowl. You can often clean it up with a second flush, but then that negates the benefit of having the lower GPF rating that is now standard for the industry.
The drain, flush valve, and bowl shape all help to contribute to a better flushing experience assuming that the water surface is reached. Flushing is almost always clog-free with the TOTO Drake 2-Piece ADA . The installation process is super easy as well, with all of the interior hardware already installed in the tank for you.
All you need to do is prepare your rough-in, bolt the toilet to the floor, and then attach the tank to the base. It really is that easy to upgrade your bathroom with this model.
One of the unique aspects of this toilet is that the lid of the tank is designed to fit flush with the unit instead of sitting over it like you'll see with many two-piece units. That gives your bathroom the benefit of having the fixture look like a one-piece model without the extra expense. The lid doesn't move when it is bumped either, which means you can focus on the flush that typically clears most waste particles from the bowl.
Because this is a two-piece unit, some people may experience a two-box shipment of their new TOTO Drake 2-Piece ADA when purchasing it online. Although both should arrive on the same day, there are times when the deliveries have been a few days apart. You may wish to keep that in mind during order placement.
If someone in your home would benefit from the presence of a comfort height unit, then we highly recommend the TOTO Drake 2-Piece ADA as one of the best options available today. Not only is it remarkably affordable, but it will also provide your family with the support you want to reduce the risk of a fall or other injury when needing to use the bathroom. Click here to compare prices on Amazon and find the best deal on the TOTO Drake 2-Piece ADA Model.
Best Design
Pros:
Even-Clean Surface
Acclerator Flush
10-yr warranty
Cons:
If the comfort height toilets that you find in this category are a little too tall for you, then this model offers an alternative which could be the perfect solution for your home. Although the American Standard Champion One-Piece model features a 16.5-inch rim height for accessibility, you can also extend that benefit with a seat that needs your medical needs. It features a standard 12-inch rough-in, flushes at 1.6 GPF, and offers a flushing system that does an excellent job of removing waste particles from the bowl.
One of the best design elements is the 4-inch piston-action accelerator flush valve. It puts water into the bowl at double the speed of a model that features a 3-inch design. That means you can receive an almost instant swirl in your bowl that removes waste particles for a fast flush. This feature is complemented by a fully-glazed trapway that guides the waste to your drain, making it 40% more effective for mass removal thanks to its 2 3/8-inch design.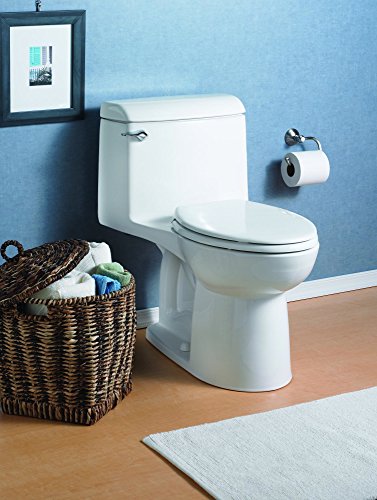 You'll also enjoy the EverClean antimicrobial surface that the manufacturer uses inside and out for this model. The American Standard Champion One-Piece model stays clean throughout almost every flush, which means your chores are faster and easier once you have this unit installed in your bathroom. It's a permanent surface that can inhibit the growth of stains from water quality issues as well, making it feel like your bathroom is the oasis you want it to be.
Every unit produced in this series is factory-tested to ensure that the flushing mechanism works as intended. It is also backed by one of the best warranties in this category, providing 10 years of support should something go wrong.
Our only area of concern with this model involves the installation of the product. There can be some variations in the fit and finish of the toilet that can make some individual units out of level. You may need to include a shim or two to create the correct installation experience, and then manage the gap which is created in whatever way works well for your bathroom.
We also noticed that the lever does take a little extra effort to trigger a flush with this model compared to the other toilets that are in this category.
What we loved about the American Standard Champion One-Piece model is that it offers a simple, sleek look that flushes fast and clean on almost every occasion. The design makes the outside of the unit exceptionally easy to clean, while the interior typically manages itself with only the weekly touch up to maintain the unit.
If you're looking for a one-piece model that offers an excellent long-term experience, then this American Standard model earns our recommendation. Click here to compare prices on Amazon and find the best deal on the American Standard Champion One-Piece Model.
What Are the Benefits Comfort Height Units?
Comfort height toilets can provide some tremendous advantages to certain people, but it is not an option for everyone.
People who are taller will typically enjoy using a model that stands higher from the floor because it's easier to sit and stand with the added height. That also means it's potentially easier to use the bathroom when it is time to go.
Anyone above 6 feet in height may wish to consider adding at least one comfort height unit to their home.
It is a useful design for anyone who has a knee injury or lower back pain as well. Because you are not sinking down as far to sit on the fixture, there is less pressure placed on these sensitive areas with your downward and upward movement. Although the design does not offer guaranteed pain relief, it is typically easier to use.
Anyone who is at a higher risk of falling (especially the elderly) will benefit from the comfort height option in their home as well. Combine this design with a handrail to provide a safer bathroom experience.
How Else Does a Comfort Height Unit Benefit the Home?
If you are upgrading to a comfort height model, there is an excellent chance that you will start saving on some of your water costs.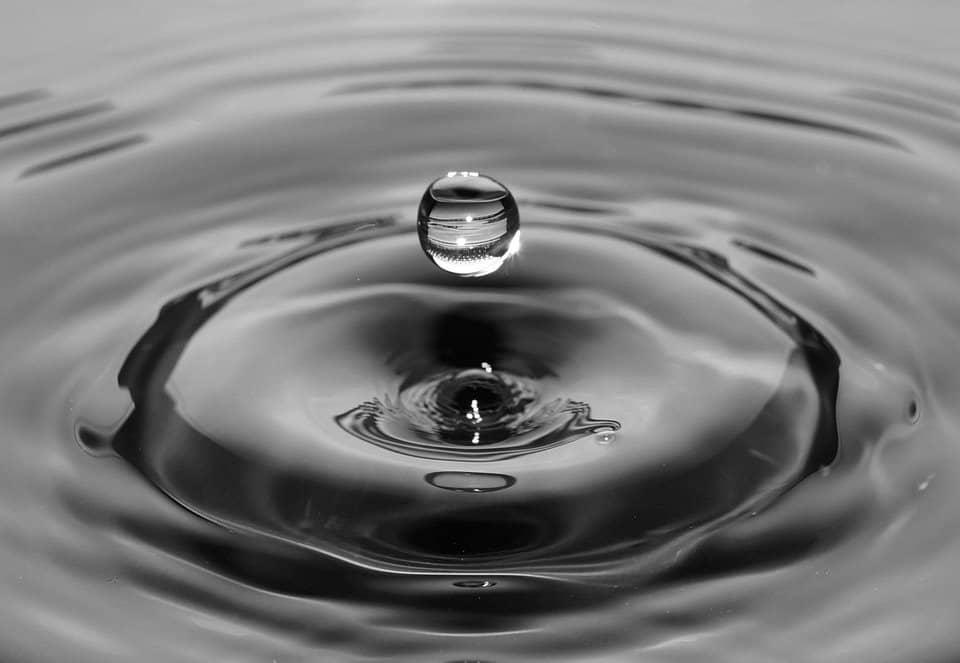 Depending on the age of the fixture you are replacing, older models could use twice the amount of water than newer models. All toilets in this category meet the 1.6 GPF threshold, while a handful of models can offer 1.28 gallons per flush experience.
That means you could save upwards of 16,000 gallons of water per year with an upgrade.
Even though the product uses less water, the performance is still equal to, if not better, than the older models. The new comfort height fixtures offer a larger trap, fewer curves, and better glazing to create less resistance, allowing the lower water levels to flush away waste particles effectively.
You'll find one-piece and two-piece models available in this category.
What About Models That Are Over 20 Inches in Height?
There are a couple of manufacturers which are producing "extra tall" comfort height models that are marketed as being a beneficial design for people who have movement issues or medical concerns that make it a challenge to use the bathroom.
If you're thinking about a model that is above 20 inches in height from the floor to the bowl, then it's important to remember that this design falls outside of the description offered by the Americans with Disabilities Act for seating assistance.
The legislation specifically states that the "seat height of a water closet above the finish floor shall be 17 inches minimum and 19 inches maximum measured to the top of the seat. Seats shall not be sprung to return to a lifted position."
There are two exceptions to this requirement.
A water closet in a toilet room for a single person accessed only through a private office and not for common or public use is not required to comply with the design requirement.
In residential dwellings, the height of a unit shall be permitted to be 15 inches at minimum and 19 inches maximum above the finish floor.
This wording has caused different manufacturers to name their models using unique marketing terms. American Standard calls their compliant products a "right height" toilet, while TOTO declares it to be a "universal height" model.
The reality of the comfort height design is that it may not be a suitable option for everyone in the home. If you only have one bathroom, then a better option might be to use a toilet seat extender if someone has mobility issues rather than purchase a specific toilet for them to use.
It may also be possible to place your unit on a pedestal, platform, or riser to achieve the correct height.
If you have multiple bathrooms, then you can have the kids use a standard model. Use the comfort height design in another accessible space so that everyone can have a comfortable experience when they need to use the facilities.
What Are the Prices?
Comfort height models typically cost a little more than their standard-sized counterparts, but it's not a difference that is going to fall outside of your budget in most circumstances.
You'll find several models in this category available for under $500. If you're looking for an entry-level design with minimal features, it is possible to find a comfort height unit under $300.
Is the Best Comfort Height Product Right for Your Home?
If you have someone with mobility issues at home, then a comfort height unit may be a solution to consider. A few inches really can make a significant difference in the safety of your bathroom.
Although there are other solutions available that may be more affordable, upgrading your toilet can be an easy way to provide yourself or your loved ones with the support they require without the threat of stability issues. Choose the model that meets the needs of your home today, and then enjoy the extra comfort of being able to sit at a comfortable height.