Although we don't often think about this item until it breaks, a fantastic toilet seat is one of the most critical elements of a bathroom visit. When it is broken or wobbly, then trying to go feels like an impossible task. If it is missing entirely, then you might as well not have a toilet at all!
A good toilet seat like the Bath Royale Round Toilet Seat will not wiggle or move when you sit on it. More on this fantastic toilet seat below.
Some people enjoy spending lots of time on the toilet – reading, playing on their phone, or simply having quiet time away from family or roommates. Because of this, a good toilet seat also needs to be durable and comfortable, as well.
OUR TOP-RATED PICKS
When you have a supportive toilet seat that helps you use the bathroom in peace, then you can begin creating a restroom oasis. A comfortable spot can help you to read, manage your smartphone apps, or have some quiet time to yourself.
Most seats will attach using the anchors that are located behind the toilet bowl. Just run the plastic screws through them, tighten up the nuts, and you're ready to go!
Best Selling
Pros:
Quick Release
Weight Capacity
Easy Install
Cons:
The Bath Royale is an excellent option to consider if you want to enjoy a budget-friendly product without sacrificing your overall comfort. Before ordering, make sure to indicate whether you need a round or elongated design to match your existing toilet bowl. You can then choose from one of the three color options that are available from this manufacturer.
We really appreciate the quick-release design of this product. Instead of wrestling with the seat when trying to clean it, you can quickly remove the item to clean those areas where messes like to build and hide.
When using the Bath Royale, you will never need to deal with the unclean areas between the mounting posts or that line where the tank and bowl meet ever again. You can get right in there with your cloth, brush, and spray disinfectants.
This affordable model comes with a quiet-close feature that prevents it from being loudly slammed when closing it. You'll prevent a lot of pinched fingers and cracked seats this way!
Once you have the product installed, tap forward to watch it close all by itself. There is no stooping or bending involved when taking care of this simple chore. This design encourages a cleaner environment without demanding a lot of effort!
Bath Royale designed their product to fit almost all standard toilet models from every major manufacturer today. If you own a TOTO, American Standard, Kohler, Caroma, Crane, or Eljer unit, then this product will work for you. It will also fit models that have non-standard mounting hole spaces of 4 to 7 inches.

An Issue
The one issue that some owners may encounter if they choose this toilet seat is that it does not accommodate the placement of a portable bidet. You'll need to remove an existing one before you can safely install this model. You'll be unable to add a bidet later on because of this design, as well.
If you're looking for an excellent product that offers enhanced durability over standard seats, improved sanitation, and better user experience, then make the small upgrade to invest in this product.
It features a two-year warranty (which is double that of most brands), more strength than other best sellers in this category, and it still refuses to compromise on comfort. It has been tested up to 400 pounds, and the non-slip bumpers distribute the weight well.
The Bath Royale might flex a little, but it is guaranteed never to break, crack, or permanently deform under regular usage conditions. That's why it is such a fantastic buy to consider today!
Click here to compare prices on Amazon and find the best deal on the Bath Royale.
BEST HEATED TOILET SEAT

Pros:
Triple Settings
Slow Close
Snap Install
Cons:
If you own an elongated toilet (or are buying a new one), then the Bemis Radiance is a fantastic deal to consider. It features three different settings that will help you to create the perfect comfort levels when you need to use the bathroom. It plugs into any standard outlet that is near your toilet, giving you warm comfort at any time and during any season.
We really appreciated the soft illumination that the night light produces with this design, as well. It features a blue tone that does not stimulate the senses if you need to use the bathroom late at night.
You'll be able to see where you are going, take care of business, and then crawl back into bed right away because you didn't need to turn on any lights.
This model features a slow-close feature as well to prevent it from slamming if you accidentally give the lid too much force. It offers a quiet experience that you can activate with a tap for convenience and hygiene.
When you combine this feature with the stay-tight fastening system that it uses, you'll discover that the value of this product will continue paying dividends for years to come.
Simple Install
Installation of the Bemis Radiance is super simple. All you need is a wrench. You can then fit the stay-tight mechanisms through the anchor holes of the bowl to create a wiggle-free experience.
You even have the option to adjust the product from front to back to ensure that you receive a precision fit, no matter what toilet brand you happen to prefer. The added grip bumpers prevent the seat from shifting while it is on the toilet bowl, as well.
When you plug in the unit, there needs to be a GFCI outlet available to avoid an unexpected problem – since electricity and water don't mix. If your bathroom faces an exterior wall, then there may be some challenges to conquer with this product since the power cord isn't very long, and an extension cord is not recommended.
If you are still using a toilet from 1992 or earlier, then you may encounter some issues with how the seat lines up with the anchors on the bowl.
We found that the Bemis unit does an excellent job of providing an elongated toilet with a comfortable heated experience you want and the quality you desire for the bathroom.
Take advantage of its many features, and you will discover that a perfect moment is waiting for you whenever you need to find a place to get away for a while.
Click here to compare prices on Amazon and find the best deal on the Bemis Lighted.
BEST BIDET SEAT

Pros:
Dual Nozzle
Adjustable heat
Single line Install
Cons:
The Bio Bidet Ultimate BB-600 is easily one of the best toilet seats on the market today. It features a round or elongated option based on the design you already have at home.
The dual-nozzle design offers a fast, effective posterior wash that the entire family will appreciate. It is also a kid-friendly device that can improve everyone's hygiene with push-button support that anyone can use.
Features
You will find all of the features that you would expect when purchasing one of the best in the industry today.
It offers an adjustable heated seat that provides everyone with a streamlined comfort experience.
It provides an energy savings mode that will reduce the amount of electricity that you use, which can help the environment.
It comes with a slow-closing lid so that you'll never need to worry about the product slamming down on little fingers or damaging the bidet feature.
The manufacturer backs this product with a 2-year limited warranty for parts and labor if something goes wrong with the item. You will absolutely feel the difference this seat makes thanks to its wide clean pulsating massage technology (that even includes bubble fusion).
When you want to start using this seat's features, then you will notice a series of controls that are available on the right-hand side of the device.
You can start your cleansing feature, use air dry, and stop the water application whenever you are ready to get up and go. There is an auto function that you can use, along with a choice for kids so that they don't get soaked after going to the bathroom.
There are even controls that allow you to position the nozzle so that your experience maximizes the amount of cleanliness that is achievable with this toilet seat.
Thanks to the tank reservoir the Bio Bidet Ultimate BB-600 contains, water can always be warm. That means you won't be dealing with the discomfort of cold-water shocks or struggle with a water stream that wants to fluctuate.
You'll always receive your desired temperature upon selection, and then receive it with steady pressure until you're ready to go.
Although this is our top-rated bidet toilet seat, installing it can be somewhat challenging. You'll need to connect the product to your existing water line, which means installing a T-connector as a splitter from your cold-water line.
If you have a tank supply line that you cannot remove from your external shutoff valve, then a new one will be necessary. In that circumstance, you would then need to shut off water to the entire house.
You will also want to make sure that there is enough space for the controls which are mounted on the right side.
If you've always wanted to experience the fun and convenience of a bidet in the bathroom, then the Bio Biden BB-600 is the perfect model to try today. It's more affordable than a stand-alone toilet seat, provides the same outcome, and will offer years of support in the quest to always be clean.
Click here to compare prices on Amazon and find the best deal on the BioBidet Ultimate.
MOST COMFORTABLE TOILET SEAT

Pros:
Warm Water
Premist
Air Dryer
Cons:
Are you tired of portable bidets that give you zero controls for the temperature of your water? Do you want an affordable device that will enhance the level of comfort that you feel without breaking your budget? With the TOTO C100 Washlet, you'll get the exact experience that you want in the bathroom because you can customize the experience!
It is incredibly easy to install while offering a soft close function to avoid slams and potential damage. You will have a quieter, fresher bathroom in no time at all – making the C100 the perfect affordable upgrade for your home.
When looking at the TOTO C100, we couldn't help but notice how easy it is to control the volume of water you receive and the temperature of the water. It's a push-button system that will work for a majority of users, although some with advanced arthritis may find it a bit difficult to control at times. It's even simple enough that the kids can use the washlet functions without much of an issue!
Additional Features
There are also these additional features to consider with this particular washlet.
It provides an oscillating comfort wash so that you get full coverage, gentle clean in almost every circumstance.
The dual-action spray nozzle has self-cleaning features that make maintaining this TOTO washlet a simple task.
The seat is heated and comes with temperature controls to offer a comfortable experience every time you sit down.
We liked the contour of the seat for this washlet. There's a definite improvement in the comfort and quality of this device! With the full coverage of the cleansing water, you'll have a great experience every time you need to go!
The installation process is straightforward with this washlet, and it will leave you 100% satisfied. Although there isn't an air dryer on this model like some others and there isn't a charcoal filter, you won't notice any real odors emanating from the device. It comes with a standard wash and a soft wash to keep everyone happy.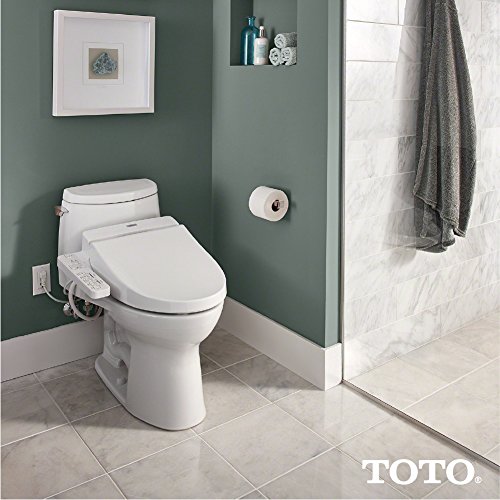 Although it doesn't have a remote control, you do get full functionality, and that's ultimately what is important.
You will need a GFCI outlet for this washlet to work properly. It's run with corded electrical power, and the cord is just over 3 feet long. That could be problematic for some users.
The controls also stick out from the side of the toilet, which can make it difficult for some installations to be successful. Taller users may find some discomfort with the device as well on an individualized basis.
From an overall perspective, however, the TOTO C100 Washlet provides an excellent cleansing experience for a surprisingly affordable price. If you're looking to upgrade to a professional quality bidet, this is an excellent product that you'll want for your home.
Click here to compare prices on Amazon and find the best deal on the Toto C100 Washlet.
TYPES AVAILABLE
There are two primary bowl styles that are available today when you start shopping: round and elongated.
Finding the correct option will usually mean using the option that works for your fixture's design. You don't want to place a round toilet seat on an elongated model, and vice-versa.
Elongated models tend to provide more comfort because they offer a shape that naturally supports your weight when using the bathroom. Round options require less space, but they can also cause you to contort your body into some possibly uncomfortable positions when you need to use the facilities.
Unless you purchase an unusual-sized model, an elongated seat offers 18.5 inches of support, while the round version offers 16.5 inches. If you are unsure of what your toilet requires, then you can measure for the seat by following these steps.
Use a tape measure or a yardstick
Locate the position of the anchor holes where the seat will be bolted to the fixture
Measure directly down the center to the front of the bowl
This process will ensure that you purchase the correct style and design when you need to replace your existing seat or have one available for your new installation
FACTORS YOU SHOULD CONSIDER WHEN BUYING
You will discover that there are several different options available today when shopping for the best toilet seat. There are some unique features that you might wish to include in your bathroom as well.
These crucial points will help you to begin narrowing the process to find the best option to meet your needs today.
Let's begin with the assumption that you have already determined if a round or elongated model is necessary.
Softness Factor. Some products provide padding or cushion to help support your weight. They are more challenging to clean, but they also offer more warmth without the need for a heater. They also often have a more ergonomic design.
Bidet. Some manufacturers include a permanent bidet underneath that will help to get you clean. Look for an option that can tie directly into your water line for the best results.
Materials. Cheap designs are often made with a wood composition. Spend a little more, and you will receive a plastic make. If you want advanced features, then you must get beyond these basics to enjoy a high-quality plastic or hybrid material.
Hinges. Some models offer a slow-close feature that prevents accidental slamming.
INSTALLING YOUR NEW SEAT
Because all models in this toilet review install essentially the same way, your final step in this process is to ensure that your anchors are set properly for the seat. You will want to align the back of the toilet seat with the holes behind the bowl so that the plastic screws can fit through both items without difficulty.
If you're installing a portable bidet, then it will sandwich between the bowl and the toilet seat while using the same anchors.
Press firmly to ensure the plastic screw is all of the way through the anchor point. Then you'll want to grab two sets of pliers to ensure the nut tightens appropriately.
Although the plastic anchor screws come with a ridge that works with a flathead screwdriver, the quality of the manufacturing will typically cause the product to tear as you tighten it to the toilet. Holding the screw in place with one set of pliers while turning the nut with the other will make it much easier to finish your installation.
An open-ended wrench is an alternative solution to consider if you have this tool available at home.
Continue tightening the anchors until you receive only a little movement with each turn while using a substantial physical effort. You don't want to overtighten them because you could break the plastic components.
Once you have everything in place, give it a firm wiggle to ensure it is tight. Then you'll be ready to go.
PRICES OF TOP-RATED MODELS
If comfort isn't a priority for your bathroom, then the cheapest available today are under $10. These products are usually made from a wood composite, providing a standard sitting experience when it is time to go.
If you want to enjoy some of the modern features, then some top-of-the-range toilet seats are priced above $300. These are usually the bidet models that offer automatic cleaning, a seat warmer, and other comforts.
Most households can find excellent value in the $50 to $100 range, just because the price is reasonable does not mean it can't be one of the best toilet seats.
ARE YOU READY TO PURCHASE?
The best toilet seat for your home is the one that makes you feel comfortable when it is time to use the bathroom.
There is no right or wrong choice here. If you find a product that you love and it supports your needs, then stick with it. Trying to reinvent the wheel seems like a wasted effort.
If you're in the market for a new product because your bathroom is ready for an upgrade, then choose from our reviewed products to find a match that was made in heaven.
Toilet Seat FAQs
Are wood or plastic toilet seats better?
These are both often considered hard toilet seats. Plastic is the least expensive material and is very easy to find as well as clean. However, plastic toilet seats are also often considered less durable than other options. Wood seats, on the other hand, are porous even when they have a clear finish applied. Plastic toilet seats need to be cleaned much more often and can show signs of wear and tear much quicker with extended use.
Do toilet seats fit all kinds of toilets?
There are industry standards for toilets, and any manufacturer's seat will fit any toilet bowl as long as they are the standard round or standard elongated types. Elongated toilet bowls are 18 ½ inches from the seat posts to the front of the rim. All round toilet bowls are 16 ½ inches.
Do you consider wooden toilet seats to be sanitary?
Many people purchase wooden toilet seats because they are more comfortable. They are also sanitary as long as you clean them regularly. Simply wipe down the toilet seat with a non-abrasive cloth or sponge and dishwashing or hand soap, and then use an antibacterial soap or cleanser, hydrogen peroxide, or rubbing alcohol to kill all the germs. Rinse the seat with clean water and then wipe it dry with a soft cloth.
What is a slow close toilet seat?
This seat will begin closing on its own once you start to push it down. Gravity is in control with the help of the tensioned hinges. They lower very slowly and make little to no sound when coming to the closed position.
What is the best toilet seat material?
Toilet seats come in different materials, including plastic, wood, and polyresin, among others. Wooden toilet seats are often said to be more comfortable and also feel warmer compared to the other types. Plastic is the least expensive but also the least durable
How do you keep a toilet seat from falling down?
Some fixes for this are often fixing screws and hinges, but a lot of the time, you will find you need to completely replace the toilet seat. Having a seat that won't stay up can cause you to come into contact with germs and bacteria, and it is just not sanitary. We suggest purchasing a seat that is a slow close toilet seat. Also, make sure to measure the toilet to be sure you are getting the right seat to begin with.
What are the benefits of a bidet toilet seat?
Bidet toilet seats are much cleaner, more convenient, and a more modern way to use the bathroom. It can help get you cleaner than you can be with just tissue alone.
Should I choose a padded toilet seat?
If you are looking for more in the way of comfort, then a padded toilet seat is definitely something to consider. You can even find seats like the Toto above that also come equipped with temperature controls.