Do you need a toilet that you can take with you in a camper van or RV? Are you trying to install a bathroom in a remote location, such as a cabin? Whether you want to add value to a cabin in the woods or you want to live in an eco-friendly way off-the-grid, a composting toilet will make your life a little easier.
This product can work indoors or out, wherever you find it helpful to create a bathroom experience on your property or while on a road trip. They even work in outdoor workshops and other areas where you could use an extra toilet! Best of all, they will help you turn waste into fertilizer!
Top Reviewed Products
Modern composting designs offers significant advantages when compared to other waterless solutions. You have the chance to have the same bathroom experience with the best models in this category without a substantial increase in the chores that you must perform.
Most of the top models that are available today require liquid removal every 2-3 days, and then waste removal every 3-4 weeks.
Here are the top-performing models that are currently available with our reviews below.
Best-Selling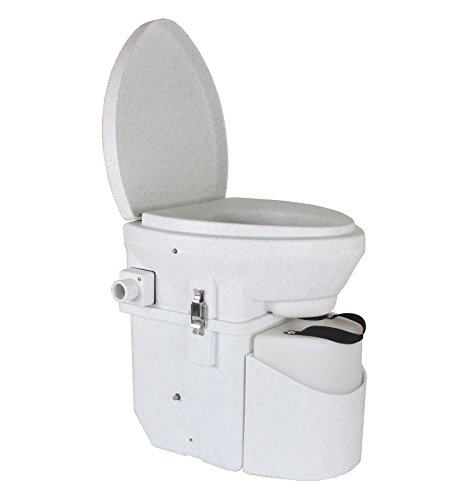 Pros:
Stainless Hardware
Easy Disassembly
Incl Vent Hose/Fan
Cons:
The Nature's Head composting toilet is a best-seller for a variety of reasons. If you need to have a reliable unit for your portable needs or a self-contained model that will support your entire family, then this is the product to purchase today. It offers urine separation that works effectively whether you're at home, on the road, or even on the water with your boat. It was designed by two sailors who were tired of using inferior products and wanted to give everyone what their vision of a restroom should be.
Before the invention of this design, using a composting feature was a headache. You would need to take several safety precautions whenever you would work with the waste because there was no way to break down the bacteria or parasites that could be living in it. Your best solution was to douse this waste in chemicals (like the blue stuff you see on airplanes) as a way to stay safe.
Now you can take the convenience of a washroom wherever you go thanks to this Nature's Head design. It can withstand the harsh climates of coastal living, yet it is still user-friendly enough to tag along in a camper or RV. Place it in your cabin, treehouse, or workshop to have an easy place where you can go at any time.
This design does not have the foul odors that are associated with holding tank systems that are designed by other brands. It features a low-volume air circulation within the basin, built into the head, to provide air recycling in your bathroom or installation area to make the entire space feel like a standard household bathroom.
You will need to add peat moss to this product to maximize the benefits it can provide. If you only use it to manage waste, then the composting feature will not work as intended.
There can be issues at times with the vent clogging on this model when it has heavy use. When you try to use a standard toilet paper product with this Nature's Head composting toilet, then this issue can arise as well. Even if you do experience odors, the smell is similar to what it smells like outside right after it rains (assuming you have peat moss in there), so it isn't a terrible experience.
If you try to empty the bin by yourself into a bag, then you will encounter some challenges with this product. We recommend having a designated area on your property that can accept the solid waste materials whenever possible.
It does take some time to get used to using the Nature's Head, but it is an effort worth making if you're ready to start reducing your water usage or need a portable toilet for any reason. Click here to compare prices on Amazon and find the best deal on the Nature's Head Composting Toilet.
Best Value
Pros:
Easy Installation
Hand Crank Agitator
Durable
Cons:
The Nature's Head dry model is easily one of the best value purchases that you can make right now. It features a hand-crank agitator that will help to start the composting process quickly. You will find that it comes with a 5-foot vent hose to use, a bottle cap, and a 12-volt power plug that allows you to take advantage of its many features.
It is easily one of the best user-friendly models that are available today. The entire toilet is self-contained, which means you're never exposed to the waste until you are ready to dump to the compost into a bag, bin, or pile. It offers a 100% waterless operation that makes it suitable for a variety of installations. You can have it work for a tiny house, a cabin, a treehouse, or even use it in a variety of survival applications.
We love the fact that Nature's Head uses stainless-steel hardware to create a durable product. The construction is remarkably robust, allowing you to take this unit almost anywhere when you need a portable place to go. It really can survive some of the harshest conditions that are in the world today.
If you want to receive the best possible results, then we highly recommend running the exhaust fan around-the-clock to prevent odor buildup. You can operate the system from a set of 12v batteries, from a solar panel, or your other preferred power source. Just remember to crank the agitator a couple of times per day to ensure that you get a good mix.
Emptying the container is not for the faint of heart, especially if the compost hasn't fully formed or the exhaust fan hasn't managed to remove all of the odors. It isn't going to make you wobbly in the knees, but there is definitely a process that requires some adjustment when you need to service this model. You'll need to empty the liquids about every three days if you are using this product full time.
There are a couple of concerns to think about with this model. If you use the hand-crank aggressively with this composting toilet, then you will increase the risk of it breaking on you. When that happens, your only option is to replace the assembly or manually turn the materials in the basin – not recommended. Some people may experience insect infestations if the base of the vent hose is not properly sealed as well.
If you are looking for a way to create a positive bathroom experience without the installation of a septic system or requirement to connect to a sewer line, then the Nature's Head dry model will meet your needs quite effectively. Make the investment today, and you will begin to enjoy saving water every time you need to go. Click here to compare prices on Amazon and find the best deal on NH Dry Composting.
Best Quality
Pros:
A/C Fan Conversion
Lightweight
Venting up to 20 ft
Cons:
This fantastic composting toilet offers all of the fantastic features that you'd expect from a model that falls into this category. The Separett Villa 9215 provides you with a waterless experience, diverts urine to encourage better compost formation, and allows you to go off-the-grid without any special knowledge to care for the product.
This model will operate on a standard household AC current or use DC power from a battery or your solar panels. It features a single-speed fan that helps to drive odors away that also works on both pour resources. You'll receive all of the parts necessary to install the direct vent or drain application, with the products matching the current pipe sizing considered to be standard in the United States.
Unlike some of the other designs, this model works with compostable bags that work to prevent any personal exposure to the waste that you leave behind. Currently, you will receive 10 bags and one waste container with a lid when you purchase this product. It also features a child seat as an available accessory, although it doesn't ship in the box.
You will receive a five-year guarantee with the Separett Villa 9215 against any manufacturing defects that might occur with the product. There is a three-year guarantee provided with the fan that keeps odors at bay.
Most families will find that they will need to service this unit about once every three weeks to prevent it from overfilling. The process to maintain this model
is fairly straightforward. You will need to remove the liner bag from the solid waste holding area. Then you can deposit the entire item in your composter or take it to an approved solid waste disposal area. If local regulations allow, you have the option to burn the waste as well.
There is nothing truly adverse to say about this unique composting toilet. It is one of the few products in this industry which performs consistently because of the vigilance in testing and manufacturing during the creation process. That is why it provides so much value to consumers despite the fact that its retail price is higher than some of the other models that are available today.
You will be able to stretch your money a lot further when you choose the Villa as your top preference. This model also carries the Intertec ETL certification to help confirm its overall quality.
If you have already confirmed with your local code officers that a composting model will work for your area, then give this best-value option a try. You will find that the Villa is a comfortable, easy-to-maintain design that will help you to use less water or create a bathroom in a convenient location on your property. Click here to compare prices on Amazon and find the best deal on the Separett Villa 9215.
Least Hassle
Pros:
Bucket Style
5-Gallon Compatible
Portable
Cons:
A composting toilet is more about convenience and an eco-friendly lifestyle instead of a product that allows you to flush items away and forget about them. If you are looking for a simple way to improve the way that you go to the bathroom on your property, then this model from Reliance Products will provide you with the basics of what is necessary.
It features a snap-on hinged seat with a cover that is compatible with a 5-gallon bucket. You'll also receive the bucket when purchasing this compostable option today. This model is also compatible with the double doodie bags that fit inside of the unit that makes it a lot easier to clean up after you need to use the bathroom.
Although it doesn't offer a biological composting experience, you will discover that this product is one of the easiest ways to manage off-grid living when there is a bathroom requirement to manage. You will receive a five-year warranty against manufacturer's defects when purchasing this item today as well. There are options to purchase 1, 2, 4, or more of these seat/bucket combinations to ensure that you have enough to support the entire family.
You must remove the lid to then get rid of the bag which contains the waste. There is no liquid separator that is available because you're essentially using a giant bucket. There is a weight limit of about 225 pounds to consider with this product, so you will want to keep that in mind when you are planning the next weekend camping trip.
Some models do come with a metal handle instead of a plastic one, creating concerns about corrosion if you plan on using this product on a boat or outside near a saltwater source. Take care with the seat because it is a fairly thin layer of plastic that could crack or chip when exposed to temperature extremes.
Reliance Products created this item as a way to provide an emergency or portable toilet for specific needs. If you want a unit that will provide everyone in your family daily support, then this is not the correct option to choose. You will want to invest in one of the other composting toilet options instead.
When your goal is to have something available for a camping trip, a hunting trip, or a place to go when working in your shop so that you don't need to run back into the house all of the time, then this is the best product to choose. You will find that there is a lot of magic awaiting you thanks to its simplicity. Click here to compare prices on Amazon and find the best deal on Reliance Products.
How to Find the Best Model for Me
When you start shopping for the best composting toilet, then the quality of its venting must become your top priority. There must be a significant quantity of air flowing over the compost you create to prevent odors from building within the basin.
Even the best models with high-quality seals will begin to produce smells if there is zero air movement over the waste being stored.
The top models in this category will also provide an automatic stirring mechanism that will help to keep the waste moving as another way to prevent odor buildup. It will also reduce the chances of unhealthy bacteria or parasite exposure because air continues to flow through the solid particle clumps as it turns. Manual options are available too, but it is worth the investment to get this automatic feature if you can afford it.
It is essential to remember that composting models are a little taller because of their storage basin, so the seat height can take a little getting used to.
Important Features to Look For
There are two critical elements that you cannot afford to compromise on when shopping for this product today.
1. It must be able to properly seal the basin to vent any fumes or noxious odors away from the room or space where you use this product.
2. There must be a high-quality stirring mechanism available for the product to ensure that the composting process works as it should.
You can potentially save a little money when shopping for the best composting toilets today by looking for a model that requires manual mixing. This design adds one more step to the maintenance process for this product, but it also removes the cost of the automatic mechanisms that do this work for you.
Prices for the Best Composting Toilets
Most models are priced between $750 to $1,500 today, depending on the size of the basin, the presence of automatic features, and the overall quality of the installation. Some models are priced above $2,000 when auto-venting comes with the product.
Benefits of Composting Toilets
It is an understandable comparison when people think that a composting toilet is similar to the outhouses of yesteryear. The mechanisms of going to the bathroom in both options are remarkably similar. Your liquid and solid wastes all go into a basin that requires servicing periodically to prevent unwanted odors from escaping.
Unlike plumbed-in flush toilets, the composting variety allows you to turn your waste is this something that is useful. You will need to use peat moss within the basin to encourage this biological process in a healthy way, but there are some other fibrous options that can help you turn what you expel into a fertilizer to use on your garden.
You will need to empty the basin 1-2 times per month to empty it. Some require bags, while others give you a bin to clean and maintain.
Another benefit to consider with this technology is that you can have a restroom which requires zero electricity. If you choose a model with a manual crank, then you can use the bathroom as you normally would. Even if the power goes out, you will still have a safe place for everyone in the family to use the restroom.
Composting toilets install in a variety of locations as well. You can place them in a treehouse, put them in your shop, or place it in a formal bathroom setting if you prefer. If you go completely water-free by using this technology, there is the potential of saving up to $250 per year when compared to the water use you would have with a standard flushing model.
FAQ About Using a Composting Toilet
Many people are curious about what the pros and cons of owning a composting toilet would be. Some might even think about using this option on their property in some way, like adding it to a treehouse, basement, or workshop that is away from the main home.
If you have always been curious, then here are some of the frequently asked questions that people often have for this product and the answers you can expect.
Does it smell?
No. Assuming that the seals which come with the product stay intact, you will not detect an odor from this product. If there is a disruption of the seals, then you would smell some odors just as you would detect sewer gas from a malfunctioning standard toilet.
How often does it require service?
If you have two people who are using a composting toilet every day, then you will need to manage the liquids about every 72 hours. The solid waste usually needs to be serviced about once per month. You won't need to worry about insects or pests getting into the product because they can't detect the odors either.
Can I use toilet paper?
Yes. The best toilet paper to use when you have this technology at home is a rapid-dissolving product. Look for options that work with portable toilets, RVs, and other camping models for the best possible results. Just remember that the more paper you use means faster changes are necessary for your composting bin.
Do I always need to sit down when I go?
Guys – you can stand up when using this toilet when you need to pee. It will still capture the liquids. It is just recommended that you sit down because that helps this technology do its job better, but it's not mandatory.
What happens if I get sick?
Composting designs can handle vomit, diarrhea, and all of that other wonderful stuff that happens when you get sick. You won't be dealing with chemicals, wasted water, or raw sewage if something happens either. The organic materials all go into the bin to become useful for composting later on.
Where can I place a composting toilet?
You can place them almost anywhere to create an instant bathroom. It is the perfect addition to a tiny house. You can add it to your boat, your RV, or even a camper van to eliminate the emergency pit stops that are sometimes necessary on a road trip. As long as you keep the fan going on this product, there are zero smells to worry about when using it.
Installation
Most of the work that you will need to do when installing is to incorporate the appropriate venting around the fixture. If you install this product outside, then this issue is no longer problematic.
If you decide to install a unit indoors, then you will need to run the vent piping through an existing hole in your exterior structure or create one yourself.
When this modification is necessary for your primary home, then a building permit is sometimes necessary because you're making an adjustment to the exterior of the structure. If you install this product in a treehouse, cabin, or stand-alone shop, then the work you need to do for venting is usually covered in the overall permit.
This product must be placed on a surface that is firm and flat. Whenever there is a slight incline when using this technology, there is added stress placed on the seals of the basin. This issue may eventually cause enough premature wear-and-tear that it may fail before the end of your warranty period – without coverage for placement because the use would be considered a violation of the terms of the warranty.
Are You Ready to Buy Today?
A composting toilet can be a significant investment for many households. There is no getting around the cost of this technology. The bright spot is that when you are 100% waterless when going to the bathroom, there is an opportunity to save money every time you don't need to flush.
Think of the best composting toilets as a traveling companion for your RV, camper, or truck. They are the perfect installation to consider when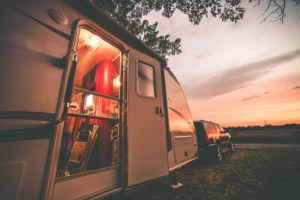 building a luxury treehouse or creating an effective working area in your garage, barn, or shed. Installation is fast, especially if you have access to a power source for the exhaust fan already in place.
Although you will need to service these units and that can be an unpleasant experience for some, this technology makes it easier to enjoy a genuine bathroom experience almost anywhere. Choose your preferred model today to begin enjoying the good life!