Do you need a toilet that you can take with you in a camper van or RV? Are you trying to install a bathroom in a remote location, such as a cabin? Whether you want to add value to a cabin in the woods or you want to live in an eco-friendly way off-the-grid, a composting toilet will make your life a little easier.
This product can work indoors or out, wherever you find it helpful to create a bathroom experience on your property or while on a road trip. They even work in outdoor workshops and other areas where you could use an extra toilet! Best of all, they will help you turn waste into fertilizer!
Top Reviewed Products
Modern composting designs offers significant advantages when compared to other waterless solutions. You have the chance to have the same bathroom experience with the best models in this category without a substantial increase in the chores that you must perform.
Most of the top models that are available today require liquid removal every 2-3 days, and then waste removal every 3-4 weeks.
Here are the top-performing models that are currently available with our reviews below.
Best-Selling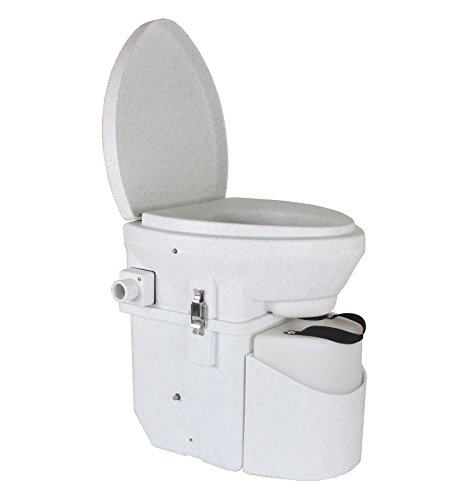 Pros:
Stainless Hardware
Easy Disassembly
Incl Vent Hose/Fan
Cons:
The Nature's Head composting toilet is a best-seller for a variety of reasons. If you need to have a reliable unit for your portable needs or a self-contained model that will support your entire family, then this is the product to purchase today. It offers urine separation that works effectively whether you're at home, on the road, or even on the water with your boat. It was designed by two sailors who were tired of using inferior products and wanted to give everyone what their vision of a restroom should be.
Before the invention of this design, using a composting feature was a headache. You would need to take several safety precautions whenever you would work with the waste because there was no way to break down the bacteria or parasites that could be living in it. Your best solution was to douse this waste in chemicals (like the blue stuff you see on airplanes) as a way to stay safe.
Now you can take the convenience of a washroom wherever you go thanks to this Nature's Head design. It can withstand the harsh climates of coastal living, yet it is still user-friendly enough to tag along in a camper or RV. Place it in your cabin, treehouse, or workshop to have an easy place where you can go at any time.
This design does not have the foul odors that are associated with holding tank systems that are designed by other brands. It features a low-volume air circulation within the basin, built into the head, to provide air recycling in your bathroom or installation area to make the entire space feel like a standard household bathroom.
You will need to add peat moss to this product to maximize the benefits it can provide. If you only use it to manage waste, then the composting feature will not work as intended.
There can be issues at times with the vent clogging on this model when it has heavy use. When you try to use a standard toilet paper product with this Nature's Head composting toilet, then this issue can arise as well. Even if you do experience odors, the smell is similar to what it smells like outside right after it rains (assuming you have peat moss in there), so it isn't a terrible experience.
If you try to empty the bin by yourself into a bag, then you will encounter some challenges with this product. We recommend having a designated area on your property that can accept the solid waste materials whenever possible.
It does take some time to get used to using the Nature's Head, but it is an effort worth making if you're ready to start reducing your water usage or need a portable toilet for any reason. Click here to compare prices on Amazon and find the best deal on the Nature's Head Composting Toilet.
Best Value
Pros:
Easy Installation
Hand Crank Agitator
Durable
Cons:
The Nature's Head dry model is easily one of the best value purchases that you can make right now. It features a hand-crank agitator that will help to start the composting process quickly. You will find that it comes with a 5-foot vent hose to use, a bottle cap, and a 12-volt power plug that allows you to take advantage of its many features.
It is easily one of the best user-friendly models that are available today. The entire toilet is self-contained, which means you're never exposed to the waste until you are ready to dump to the compost into a bag, bin, or pile. It offers a 100% waterless operation that makes it suitable for a variety of installations. You can have it work for a tiny house, a cabin, a treehouse, or even use it in a variety of survival applications.
We love the fact that Nature's Head uses stainless-steel hardware to create a durable product. The construction is remarkably robust, allowing you to take this unit almost anywhere when you need a portable place to go. It really can survive some of the harshest conditions that are in the world today.
If you want to receive the best possible results, then we highly recommend running the exhaust fan around-the-clock to prevent odor buildup. You can operate the system from a set of 12v batteries, from a solar panel, or your other preferred power source. Just remember to crank the agitator a couple of times per day to ensure that you get a good mix.
Emptying the container is not for the faint of heart, especially if the compost hasn't fully formed or the exhaust fan hasn't managed to remove all of the odors. It isn't going to make you wobbly in the knees, but there is definitely a process that requires some adjustment when you need to service this model. You'll need to empty the liquids about every three days if you are using this product full time.
There are a couple of concerns to think about with this model. If you use the hand-crank aggressively with this composting toilet, then you will increase the risk of it breaking on you. When that happens, your only option is to replace the assembly or manually turn the materials in the basin – not recommended. Some people may experience insect infestations if the base of the vent hose is not properly sealed as well.
If you are looking for a way to create a positive bathroom experience without the installation of a septic system or requirement to connect to a sewer line, then the Nature's Head dry model will meet your needs quite effectively. Make the investment today, and you will begin to enjoy saving water every time you need to go. Click here to compare prices on Amazon and find the best deal on NH Dry Composting.
Best Quality
Pros:
A/C Fan Conversion
Lightweight
Venting up to 20 ft
Cons:
This fantastic composting toilet offers all of the fantastic features that you'd expect from a model that falls into this category. The Separett Villa 9215 provides you with a waterless experience, diverts urine to encourage better compost formation, and allows you to go off-the-grid without any special knowledge to care for the product.
This model will operate on a standard household AC current or use DC power from a battery or your solar panels. It features a single-speed fan that helps to drive odors away that also works on both pour resources. You'll receive all of the parts necessary to install the direct vent or drain application, with the products matching the current pipe sizing considered to be standard in the United States.
Unlike some of the other designs, this model works with compostable bags that work to prevent any personal exposure to the waste that you leave behind. Currently, you will receive 10 bags and one waste container with a lid when you purchase this product. It also features a child seat as an available accessory, although it doesn't ship in the box.
You will receive a five-year guarantee with the Separett Villa 9215 against any manufacturing defects that might occur with the product. There is a three-year guarantee provided with the fan that keeps odors at bay.
Most families will find that they will need to service this unit about once every three weeks to prevent it from overfilling. The process to maintain this model
is fairly straightforward. You will need to remove the liner bag from the solid waste holding area. Then you can deposit the entire item in your composter or take it to an approved solid waste disposal area. If local regulations allow, you have the option to burn the waste as well.
There is nothing truly adverse to say about this unique composting toilet. It is one of the few products in this industry which performs consistently because of the vigilance in testing and manufacturing during the creation process. That is why it provides so much value to consumers despite the fact that its retail price is higher than some of the other models that are available today.
You will be able to stretch your money a lot further when you choose the Villa as your top preference. This model also carries the Intertec ETL certification to help confirm its overall quality.
If you have already confirmed with your local code officers that a composting model will work for your area, then give this best-value option a try. You will find that the Villa is a comfortable, easy-to-maintain design that will help you to use less water or create a bathroom in a convenient location on your property. Click here to compare prices on Amazon and find the best deal on the Separett Villa 9215.
Least Hassle
Pros:
Bucket Style
5-Gallon Compatible
Portable
Cons:
A composting toilet is more about convenience and an eco-friendly lifestyle instead of a product that allows you to flush items away and forget about them. If you are looking for a simple way to improve the way that you go to the bathroom on your property, then this model from Reliance Products will provide you with the basics of what is necessary.
It features a snap-on hinged seat with a cover that is compatible with a 5-gallon bucket. You'll also receive the bucket when purchasing this compostable option today. This model is also compatible with the double doodie bags that fit inside of the unit that makes it a lot easier to clean up after you need to use the bathroom.
Although it doesn't offer a biological composting experience, you will discover that this product is one of the easiest ways to manage off-grid living when there is a bathroom requirement to manage. You will receive a five-year warranty against manufacturer's defects when purchasing this item today as well. There are options to purchase 1, 2, 4, or more of these seat/bucket combinations to ensure that you have enough to support the entire family.
You must remove the lid to then get rid of the bag which contains the waste. There is no liquid separator that is available because you're essentially using a giant bucket. There is a weight limit of about 225 pounds to consider with this product, so you will want to keep that in mind when you are planning the next weekend camping trip.
Some models do come with a metal handle instead of a plastic one, creating concerns about corrosion if you plan on using this product on a boat or outside near a saltwater source. Take care with the seat because it is a fairly thin layer of plastic that could crack or chip when exposed to temperature extremes.
Reliance Products created this item as a way to provide an emergency or portable toilet for specific needs. If you want a unit that will provide everyone in your family daily support, then this is not the correct option to choose. You will want to invest in one of the other composting toilet options instead.
When your goal is to have something available for a camping trip, a hunting trip, or a place to go when working in your shop so that you don't need to run back into the house all of the time, then this is the best product to choose. You will find that there is a lot of magic awaiting you thanks to its simplicity. Click here to compare prices on Amazon and find the best deal on Reliance Products.
How to Find the Best Model for Me
When you start shopping for the best composting toilet, then the quality of its venting must become your top priority. There must be a significant quantity of air flowing over the compost you create to prevent odors from building within the basin.
Even the best models with high-quality seals will begin to produce smells if there is zero air movement over the waste being stored.
The top models in this category will also provide an automatic stirring mechanism that will help to keep the waste moving as another way to prevent odor buildup. It will also reduce the chances of unhealthy bacteria or parasite exposure because air continues to flow through the solid particle clumps as it turns. Manual options are available too, but it is worth the investment to get this automatic feature if you can afford it.
It is essential to remember that composting models are a little taller because of their storage basin, so the seat height can take a little getting used to.
Important Features to Look For
There are two critical elements that you cannot afford to compromise on when shopping for this product today.
1. It must be able to properly seal the basin to vent any fumes or noxious odors away from the room or space where you use this product.
2. There must be a high-quality stirring mechanism available for the product to ensure that the composting process works as it should.
You can potentially save a little money when shopping for the best composting toilets today by looking for a model that requires manual mixing. This design adds one more step to the maintenance process for this product, but it also removes the cost of the automatic mechanisms that do this work for you.
Prices for the Best Composting Toilets
Most models are priced between $750 to $1,500 today, depending on the size of the basin, the presence of automatic features, and the overall quality of the installation. Some models are priced above $2,000 when auto-venting comes with the product.
Benefits of Composting Toilets
It is an understandable comparison when people think that a composting toilet is similar to the outhouses of yesteryear. The mechanisms of going to the bathroom in both options are remarkably similar. Your liquid and solid wastes all go into a basin that requires servicing periodically to prevent unwanted odors from escaping.
Unlike plumbed-in flush toilets, the composting variety allows you to turn your waste is this something that is useful. You will need to use peat moss within the basin to encourage this biological process in a healthy way, but there are some other fibrous options that can help you turn what you expel into a fertilizer to use on your garden.
You will need to empty the basin 1-2 times per month to empty it. Some require bags, while others give you a bin to clean and maintain.
Another benefit to consider with this technology is that you can have a restroom which requires zero electricity. If you choose a model with a manual crank, then you can use the bathroom as you normally would. Even if the power goes out, you will still have a safe place for everyone in the family to use the restroom.
Composting toilets install in a variety of locations as well. You can place them in a treehouse, put them in your shop, or place it in a formal bathroom setting if you prefer. If you go completely water-free by using this technology, there is the potential of saving up to $250 per year when compared to the water use you would have with a standard flushing model.
FAQ About Using a Composting Toilet
Many people are curious about what the pros and cons of owning a composting toilet would be. Some might even think about using this option on their property in some way, like adding it to a treehouse, basement, or workshop that is away from the main home.
If you have always been curious, then here are some of the frequently asked questions that people often have for this product and the answers you can expect.
Does it smell?
No. Assuming that the seals which come with the product stay intact, you will not detect an odor from this product. If there is a disruption of the seals, then you would smell some odors just as you would detect sewer gas from a malfunctioning standard toilet.
How often does it require service?
If you have two people who are using a composting toilet every day, then you will need to manage the liquids about every 72 hours. The solid waste usually needs to be serviced about once per month. You won't need to worry about insects or pests getting into the product because they can't detect the odors either.
Can I use toilet paper?
Yes. The best toilet paper to use when you have this technology at home is a rapid-dissolving product. Look for options that work with portable toilets, RVs, and other camping models for the best possible results. Just remember that the more paper you use means faster changes are necessary for your composting bin.
Do I always need to sit down when I go?
Guys – you can stand up when using this toilet when you need to pee. It will still capture the liquids. It is just recommended that you sit down because that helps this technology do its job better, but it's not mandatory.
What happens if I get sick?
Composting designs can handle vomit, diarrhea, and all of that other wonderful stuff that happens when you get sick. You won't be dealing with chemicals, wasted water, or raw sewage if something happens either. The organic materials all go into the bin to become useful for composting later on.
Where can I place a composting toilet?
You can place them almost anywhere to create an instant bathroom. It is the perfect addition to a tiny house. You can add it to your boat, your RV, or even a camper van to eliminate the emergency pit stops that are sometimes necessary on a road trip. As long as you keep the fan going on this product, there are zero smells to worry about when using it.
Composting Toilets vs. Garden Compost Bins
The core concept might be the same. You would be converting waste to manure in both these places. The actual steps involved and the method in which the waste is broken down differ. In a composting toilet, you also have the limitation of space. Therefore, the kind of fillers you use and the substances you can add to give the compost a form would be limited. In a larger garden compost bin or pit, you might be able to add a variety of composting agents. In garden composting you can also choose between aerobic and anaerobic methods. The latter produces a pungent odor and might not be suitable for an urban setup.
With a garden composting pit or bin, you would have to work on creating a separate drainage arrangement so as to allow excess fluids to escape. Most of the popular composting toilets take care of this with the help of a heating arrangement.
The type of waste that can be added to the pit also differs. In the regular garden composting bin, you can only add kitchen waste, newspaper, dry leaves, sawdust, and hay. Human waste and animal waste are not added in these pits.
What are the steps involved in cleaning a composting toilet?
The number of uses after which you have to clean the composting toilet depends on the toilet design you choose. One other method to identify the cleaning time is to try and move the agitator. If it is hard to turn, then the bucket is full, and it is time for you to clean the toilet. Pull out the liquid waste bin. Take the compost bucket and dump the contents into a compost storage bag or bin. Liquid waste can be dumped in the sewer or in the toilet.
While this is about the maintenance process that you need after the bucket is full, it is good to clean the toilet bowl and the seat after every use. There would be no water used in the toilet. Therefore, you can use a disinfectant spray to keep up the hygienic conditions in the toilet. Choose biodegradable toilet papers which are easy to decompose. After dumping the contents of the waste collection units give a thorough wash with a mild cleanser.
While adding composting enhancers as well as while handling the waste collection bucket emptying process, it is better to wear gloves. The compost in this process is free from harmful bacteria, but it is always a good idea to take precautionary measures. You can also wear masks if you do not like the damp musty smell of compost. The basic design, self-contained units, separate bowl, and waste collection unit or a centralized composting toilet determines the actual steps involved in maintenance and repair of the system.
Are Composting Toilets Environmentally Friendly?
The answer is a straight yes for this question. In fact, the sole reason that they are environmentally friendly has garnered all the attention revolving around them. The power required for the heating element and the composting toilets, overall, is less than that required for traditional flush systems and sewage treatment. Besides bringing down the long-term power consumption all the water that goes down the flush can also be cut down. This helps bring down the water consumption by thousands of liters in a single household. One other major good that a composting toilet does to the environment is that there is no need for digging and disturbing the ground to lay the septic tank system. This is one process that disturbs a lot of the ground area in regular toilet systems. In addition to all these benefits that it offers to the environment, composting toilets can give reliable natural compost. You can then use this in the garden. You can use it with most plants in the garden except for edible produce.
Installation
Most of the work that you will need to do when installing is to incorporate the appropriate venting around the fixture. If you install this product outside, then this issue is no longer problematic.
If you decide to install a unit indoors, then you will need to run the vent piping through an existing hole in your exterior structure or create one yourself.
When this modification is necessary for your primary home, then a building permit is sometimes necessary because you're making an adjustment to the exterior of the structure. If you install this product in a treehouse, cabin, or stand-alone shop, then the work you need to do for venting is usually covered in the overall permit.
This product must be placed on a surface that is firm and flat. Whenever there is a slight incline when using this technology, there is added stress placed on the seals of the basin. This issue may eventually cause enough premature wear-and-tear that it may fail before the end of your warranty period – without coverage for placement because the use would be considered a violation of the terms of the warranty.
What are Composting Toilets? How Do They Work?
The pressing need for water conservation and the current water crisis in several parts of the world have motivated many regions to welcome the composting toilet design. This one plays a huge role in saving water. Flushing systems might be one of the problem spots where a lot of water is wasted every single day in the urban regions. This is where the composting toilets come into the picture. As the name indicates, these toilets work by composting the waste. They break down the waste that enters the system and decompose them and create compost which you can then use in your garden.
The steps involved and the specifics of the design might vary from one composting toilet to another. However, 3 basic processes take place inside any of these designs;
Evaporation. Most of the waste entering the system would be liquids and evaporating these liquids would be the primary step. Some systems catalyze this step by adding a heating element. Not all of the liquid is evaporated as the formation of the compost still needs some moisture.
Accelerated Decomposition. The breakdown of solid waste is the next major process. The system mimics the natural decomposition process at an accelerated rate. There might be specific composting compounds that the manufacturer might recommend adding to the system. You could add sawdust or even peat mix to act as a bulking agent. This would give a form for the compost and also boost the aeration of the mixture. Therefore, you need something light, with the ability to retain moisture. Adding coffee grounds and other such odor neutralizing substances as you would in normal garden compost, is also a good idea. This process cuts down the odor in the toilet waste.
Compost Removal. The final compost that comes out of the composting toilet is free from foul odor and would look and feel like any garden compost. This is also safe to be handled and is free from toxic fumes.
What makes a composting toilet different from a conventional toilet?
Separate Waste Compartments. One of the first differences between a composting toilet and a regular toilet that you should know about it the way they handle the waste. Composting toilets designs sometimes direct the liquid waste and the solid waste to separate chambers.
Cheaper Overall. The whole system of creating a flush tank and connecting with the sewage disposal system would cost more than what it costs to install a composting toilet. Therefore, in terms of the initial investment, composting toilets are more economical than the regular toilets.
If you talk about the cost of usage of the toilet, taking the water usage into account, then the regular toilets are more expensive. The composting toilets are known to conserve water. Therefore, in the regions where water usage is also billed, these toilets can help save a lot of money.
Very Different Maintenance. In terms of maintenance, regular toilets are easier than composting toilets. However, the cleaning process remains similar.
Low / No Water. In the areas with intense water shortage, composting toilets are the best options. Installation of a regular toilet in these places might be difficult unless there is an efficient sewage treatment plant that supplies water to the flush systems.
The construction, shape, and size might all differ between composting toilets and portable toilets. Composting toilets need the power to be operated. Most portable toilets might come without the need for a power source. Some feature an electrical flush system which might still need a power source. The major difference lies in the fact that portable toilets need water. There is a separate freshwater tank which is placed above the waste collection tank. This freshwater tank must be filled with water to use the flush system of the portable toilets. On the composting toilets, there is no need to use fresh water. With the portable toilets, the treatment of the waste happens by adding chemical waste treatment compounds. This help eliminates the odor and aids the convenient storage of the waste till disposal. In the composting toilets, you would not be adding any chemicals as the resulting compost is used to nourish plants.
After knowing all the perks and limitations of using composting toilets if you have plans to buy one soon then here are a few basics to know about. You should learn about prepping the toilet for use and about cleaning and maintenance.
Why should you use a composting toilet?
What are the real advantages that have made composting toilets so popular?
Easy Install. The easy installation process is one of the main perks of using composting toilets. You can install these anywhere without damaging the property. This one also doesn't require intense underground plumbing modification because there is no need to connect to a central sewage disposal line.
Space Saving. The fact that there is no flush tank required for this system makes them compact. This makes them easy choices, even for the smallest bathrooms. You can save both floor and wall space inside small bathrooms by installing composting toilets.
Portable. As composting toilets can be compact; you would also easily find a huge variety of portable composting toilets. These are suitable for those who go camping or even for those who use an RV. While taking up less space in the camping site or RV, these toilets can also make it possible to use the toilet even in those places where you do not have access to water.
Environmentally Friendly. If you have a garden, you would know how expensive organic compost can be. Using fertilizers can make the soil sterile. Therefore, if you have a composting toilet at home, you also have access to a free supply of natural compost. This can be used to keep up the fertility of the soil and also to boost the growth of the plants naturally.
Besides all the above benefits, the long-term money-saving that composting toilets offer cannot be ignored.
History of Composting Toilets and the Evolution in Design
The concept of using dry toilets has been popular for ages. Dry earth toilets were used in several countries, even in the 1800s. In the 1900s, the Chinese concept of using human waste as fertilizer grabbed attention. The method of storing this waste was different back then. There were large capacity earthenware receptacles in which the waste was collected. In a country where agriculture is a primary occupation, the use of night-soil for fertilizing the fields was a common practice. The practice is centuries old, and what you see today is a modern version of this concept. Instead of allowing the night soil to sit in the receptacles for several days for the waste to decompose, the process is hastened using composting materials. The method of collection of waste and transportation to the storage facility was the one controversial factor. Exposure to the stored wasted could mean exposure to disease-causing pathogens. The modern-day composting toilets address this by cutting exposure to the collected waste and also by neutralizing the odor and treating the waste to convert it to a safe-to-handle compost. In the past, it took several months or years for the compost to be ready. This was the duration of time that was required for the compost to be labeled as safe to handle. Today's composting toilets can decompose the waste and prepare the compost in a matter of weeks.
Common problems with composting toilets and how to fix them
Odors. Containment can be effective in some less well-made models. The effect here depends a lot on the model you choose. To ensure that you are not stuck with a smelly toilet, you must do your research to pick the best-rated ones. Look for those that come with a tightly sealed waste collection container that locks the odor. Besides the design itself, you might also have to use some natural odor eliminating ingredients that would not interfere with your compost. This is because, even in the sealed container, you would have to open the trap door that leads directly to the chamber that contains the collected waste. Choose an efficiently compartmentalized design for better results.
Height. The height of the composting toilets might be slightly more than that of the conventional toilets. Even if you are looking for a portable option, this might be the only problem. Therefore, these toilets might be slightly difficult to use for the little ones in the family and for the elderly who might need additional support to use them. The added height here is because of the waste containment system that goes below the toilet bowl.
Compliance. Legislation problems and community guidelines on the use of waterless composting toilets should also be taken into account. Check whether there are any restrictions imposed by the local city council regarding the health and sanitary aspects of using composting toilets. This is because there are some low-quality composting toilets which end up posing as sanitation hazards. Also, if the compost is not fully formed if the decomposition process is not efficient half-decomposed waste dumped into the garden will attract flies and rodents. This can then be a threat to the cleanliness of the locality. The foul odor might also lead to complaints from the neighbors. Depending on the frequency of use of the composting toilet, the amount of compost produced varies. Evaluate whether you would need that much quantity of compost regularly. If you have spare compost, think of ways in which you will contain them securely without attracting pests.
Repairs. One of the common problems that people with composting toilets might face is the trouble in carrying out repairs. If you have a standard toilet installed, you would be able to get spares like toilet seats and others if there is a breakdown or damage. This is not possible with composting toilets. Finding spares is relatively more difficult. You can easily tackle this problem by choosing popular models and from reputed manufacturers. Therefore, you would also be able to find spares from the same manufacturer. There are some that come with long term warranty benefits that allow you to get the composting toilet repaired by professionals conveniently.
When and Where are Composting Toilets Good to be Used?
The application of a composting toilet is mainly in those regions where there is no water supply or when it is scarce. Therefore, these can be used in recreational facilities or camping grounds located in the middle of a forest or on hilltops.
These toilets are also useful if sewage treatment or disposal is difficult in any situation. If you are traveling in an RV and if you do not have access to an authorized dumping station for long distances, then you might find a composting toilet to be a good choice.
One other major application of these toilets is in places of natural disasters. These might be situations where access to clean water for sanitation would be difficult. Portable composting toilets can be placed in the affected areas for providing hygienic washroom facilities for the residents. There is no need for a septic tank connection in a composting toilet.
In What Situations are Composting Toilets a Bad Choice?
The heating element in a composting toilet might need a power source for proper functioning. The power required is low, but still, you cannot use it in a place where there is no power source. For those situations where it would be more liquid waste that is collected, using a composting toilet might not be an efficient option.
Most of the current composting toilet designs are not suitable for heavy use. In crowded commercial places, this might not be a good choice. There are portable toilets designed for use at commercial events and fares instead.
If there are too many members using the composting toilet, then daily cleaning might be required. This is going to be difficult because you cannot empty the container until the waste is fully converted to compost. When the frequency of use is high then while the waste is being decomposed, there might be new waste being added, leading to different stages of composition and therefore a less-homogenous compost.
Are You Ready to Buy Today?
A composting toilet can be a significant investment for many households. There is no getting around the cost of this technology. The bright spot is that when you are 100% waterless when going to the bathroom, there is an opportunity to save money every time you don't need to flush.
Think of the best composting toilets as a traveling companion for your RV, camper, or truck. They are the perfect installation to consider when building a luxury treehouse or creating an effective working area in your garage, barn, or shed. Installation is fast, especially if you have access to a power source for the exhaust fan already in place.
Although you will need to service these units and that can be an unpleasant experience for some, this technology makes it easier to enjoy a genuine bathroom experience almost anywhere. Choose your preferred model today to begin enjoying the good life!