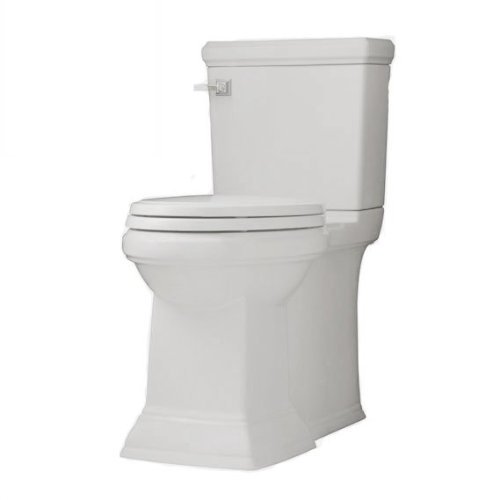 If you are looking to find a complete toilet that is ready to use straight from the box after installation, then most manufacturers can leave you wanting. You may need to purchase the tank bolts, a toilet seat, or other hardware separately to get the job done. With the American Standard Town Square elongated toilet, the story is much different. You will receive everything that you need for a 12-inch rough-in to finalize the look of your bathroom.
This two-piece model weighs in at 114 pounds, so it is a little heavier than your average toilet today. The floor-to-rim height is just over 16 inches, which places it into the comfort category for most individuals. It's side-to-side with is just over 15 inches as well, so it can fit into some smaller spaces compared to some other products too.
Essential Facts About the American Standard Town Square Toilet
American Standard provides you with a high-efficiency design with their Town Square model, offering 1.28 GPF with an effective force that doesn't leave behind waste particles. Their FloWise technologies help you to conserve water without compromising on the amount of noise that you hear in your bathroom with every flush.
Here are some of the other essential facts that you may want to know about our user experience with the American Standard Town Square elongated toilet.
It features an EverClean surface that reduces the risk of waste particles sticking to the bowl, even if they do not come into contact with the resting water.
You will receive a Duroplast slow-close toilet seat in-the-box with this model, along with with two color-matched bolt hole covers. You will also receive a tool for the tank bolts to complete the installation.
The trapway for this design is fully skirted, which improves user access around the unit when you need to take care of your weekly deep-cleaning chores in the bathroom.
We also really appreciated using the PowerWash rim that the manufacturer provides with this design. This feature traps air in the rim chamber of the toilet, producing a pressurized rinse that helps to scour the bowl for a fresher experience. It can handle up to 1,000 grams of solid waste in a single flush.
User Experiece with the American Standard Town Square
This toilet is backed by one of the best warranties in the industry today. Owners are given a 10-year backing that covers everything inside and out for the model.
The entire flushing experience when using this unit takes about 5 seconds. Refilling the small tank is fast and quiet. Although you can find some cheaper entry-level models available, the combination of installation ease and water-savings with each flush far outweigh any negatives that may come around.
We did find that frequent use of the toilet can lead to a potential flush valve malfunction with this unit, while the other internal hardware can sometimes only last between 12-24 months depending on your water quality issues.
If you want a fixture for your bathroom that will speak of timeless elegance, then the American Standard Town Square elongated toilet provides an excellent outcome. It works exceptionally well if you're willing to give it a little extra time and attention with cleaning and ongoing maintenance.
Click here to compare prices on Amazon and get the best price on the American Standard Town Square Elongated Toilet.